We don't just feature the same handful of trains you find on other sites. We've gone out of our way to cover trains and train subjects that have been ignored for far too long. We even take you to festivals, special events and museums that celebrate America's long love affair with the historic steam train.
Browse our online catalog! Use the Sort by to find the DVDs you're looking for. You can also Search products in the search box to your right by entering a word or number (frisco, 261, etc.) Click on the DVD covers for full descriptions and video preview. Some items are available in money-saving Combo Sets. We accept all major credit cards. Payment by check can also be made.
Friend us on Facebook for exclusive sales and offers. Join our newsletter for the latest from the tracks.

2816: Canadian Pacific Steam Across The Midwest
2816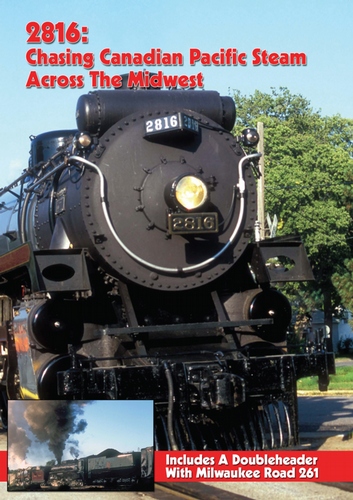 In 2007, Canadian Pacific steam locomotive 2816 traveled from its home in Calgary, Alberta to the US Midwest. This was only the second visit to the area following restoring 2816 to operation in 2001.
Our coverage of this historic trip begins at the Canadian border at Noyes, MN as 2816 traveled to Minneapolis via Thief River Falls and Glenwood. We also accompanied 2816 to the Chicago area for high speed trips between Franklin Park, IL and Sturtevant, WI. After spending a few nights at Bensenville Yard, 2816 returned to Minneapolis. The route crossed Wisconsin to La Crosse, then followed the Mississippi River to the Twin Cities.
Shorter journeys from Minneapolis included a day trip to Glenwood, MN where the engine was turned on a very old turntable, and a visit to Osceola and Dresser, WI.
The highlight of the three weeks was the double-header with Milwaukee Road 261 along the Mississippi River to Le Crescent, MN. The two steam locomotives pulled a long train with no diesels or auxiliary tenders.
Our coverage of this historic journey concludes with an all-day fast trip to Thief River Falls where we bid this beautiful 4-6-4 goodbye.
Running time: Approximately 85 minutes
Conveniently organized by chapters
Minimal narration - less talk, more steam action!
$25 In stock
Quantity Discount Single DVD (0)