We don't just feature the same handful of trains you find on other sites. We've gone out of our way to cover trains and train subjects that have been ignored for far too long. We even take you to festivals, special events and museums that celebrate America's long love affair with the historic steam train.
Browse our online catalog! Use the Sort by to find the DVDs you're looking for. You can also Search products in the search box to your right by entering a word or number (frisco, 261, etc.) Click on the DVD covers for full descriptions and video preview. Some items are available in money-saving Combo Sets. We accept all major credit cards. Payment by check can also be made.
Friend us on Facebook for exclusive sales and offers. Join our newsletter for the latest from the tracks.

A Boatload of Steam!
1121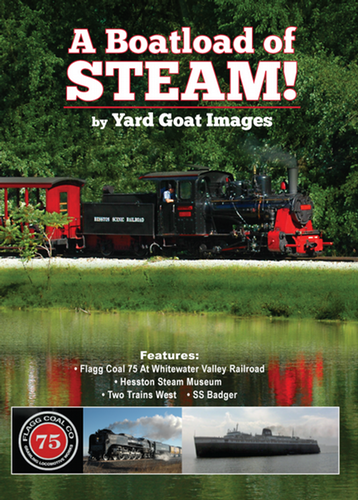 Four Great Steam Stories!
Flagg Coal 75 At Whitewater Valley Railroad - Flagg Coal Company 75 is an 0-4-0 saddle-tank steam locomotive built in 1930. Father and son John and Byron Gramling purchased it in 1991 and after ten years of hard work they returned it to service. Today it is used for train rides at rail museums, attractions, and special events. Our program takes place at the Whitewater Valley Railroad, which operates between Connersville and Metamora, IN.
Hesston Steam Museum - Located in La Porte, IN, Hesston Steam Museum has three separate rail lines in four gauges. We view two steam locomotives in operation: a 24" gauge German engine and one of Hesston's two 1/4-size Kiddieland Limited locomotives.
Two Trains West - First we follow Iowa Interstate's Chinese QJ 7081 from Newton to Council Bluffs, IA. Here 7081 meets UP 844 at Golden Spike Park. The next day 844 takes a special train to North Platte, NE to commemorate the 50th anniversary of its steam program. We continue with 844 to its home in Cheyenne, WY.
SS Badger - This large carferry was built by the C&O Railroad to carry rail cars, autos, and passengers across Lake Michigan. It is the last coal-burning steamship in the US and one of the last vessels in service on the Great Lakes to be powered by Skinner Unaflow engines. In 1992 the Badger began its present service between Ludington, MI and Manitowoc, WI for passengers and their vehicles. We cross Lake Michigan, meet the Captain and Chief Engineer, and on another day show the Badger arrive and depart foggy Manitowoc harbor.
Running time approximately 101 minutes
Conveniently organized by chapters
Multiple cameras
Minimal narration - less talk, more steam action!
$25 In stock