We don't just feature the same handful of trains you find on other sites. We've gone out of our way to cover trains and train subjects that have been ignored for far too long. We even take you to festivals, special events and museums that celebrate America's long love affair with the historic steam train.
Browse our online catalog! Use the Sort by to find the DVDs you're looking for. You can also Search products in the search box to your right by entering a word or number (frisco, 261, etc.) Click on the DVD covers for full descriptions and video preview. Some items are available in money-saving Combo Sets. We accept all major credit cards. Payment by check can also be made.
Friend us on Facebook for exclusive sales and offers. Join our newsletter for the latest from the tracks.

ATT & NW: Friends Weekend
1311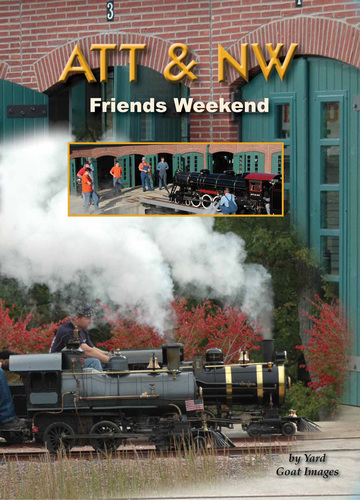 The Arborway, TT and Northwestern, (ATT & NW) is a Grand Scale Miniature Railroad that runs on 15" gauge track through spectacular Missouri Ozark surroundings. There are more than three and a half miles of 2% grade single and double track main-line with two tunnels on the site's rolling terrain.
The inspiration for the ATT & NW came in the year 2000 from St. Louis businessman John R. Woods, who wanted to create a distinct and authentic site for family, friends, and business associates to gather. Sadly, not long after seeing his dream railroad become operational, John Woods died accidentally in 2008.
The Woods family has kept the railroad intact as a non-profit organization. The ATT&NW is not open to the general public, but it's possible to visit and volunteer after becoming a member of the Friends of the ATT & NW.
Our program was recorded at an annual Friends Weekend, which features running all of the ATT & NW locomotives and rolling stock along with visiting equipment well into the night, along with music, food, and good company.
We were impressed not only with the railroad and variety of equipment, but for the emotional attachment the volunteers seem to have for this magical place. We're grateful to the Arborway, TT & Northwestern for allowing us to bring you the events of the Friends Weekend!
Running time 86 minutes
Captured with multiple tripod-mounted cameras and loco-cam
Organized by chapters
Minimal narration - less talk, more action!
The Arborway TT & NW (ATT&NW) Friends Weekend from Yard Goat Images on Vimeo.
$25 In stock