We don't just feature the same handful of trains you find on other sites. We've gone out of our way to cover trains and train subjects that have been ignored for far too long. We even take you to festivals, special events and museums that celebrate America's long love affair with the historic steam train.
Browse our online catalog! Use the Sort by to find the DVDs you're looking for. You can also Search products in the search box to your right by entering a word or number (frisco, 261, etc.) Click on the DVD covers for full descriptions and video preview. Some items are available in money-saving Combo Sets. We accept all major credit cards. Payment by check can also be made.
Friend us on Facebook for exclusive sales and offers. Join our newsletter for the latest from the tracks.

Big Steam on the Mainline
1220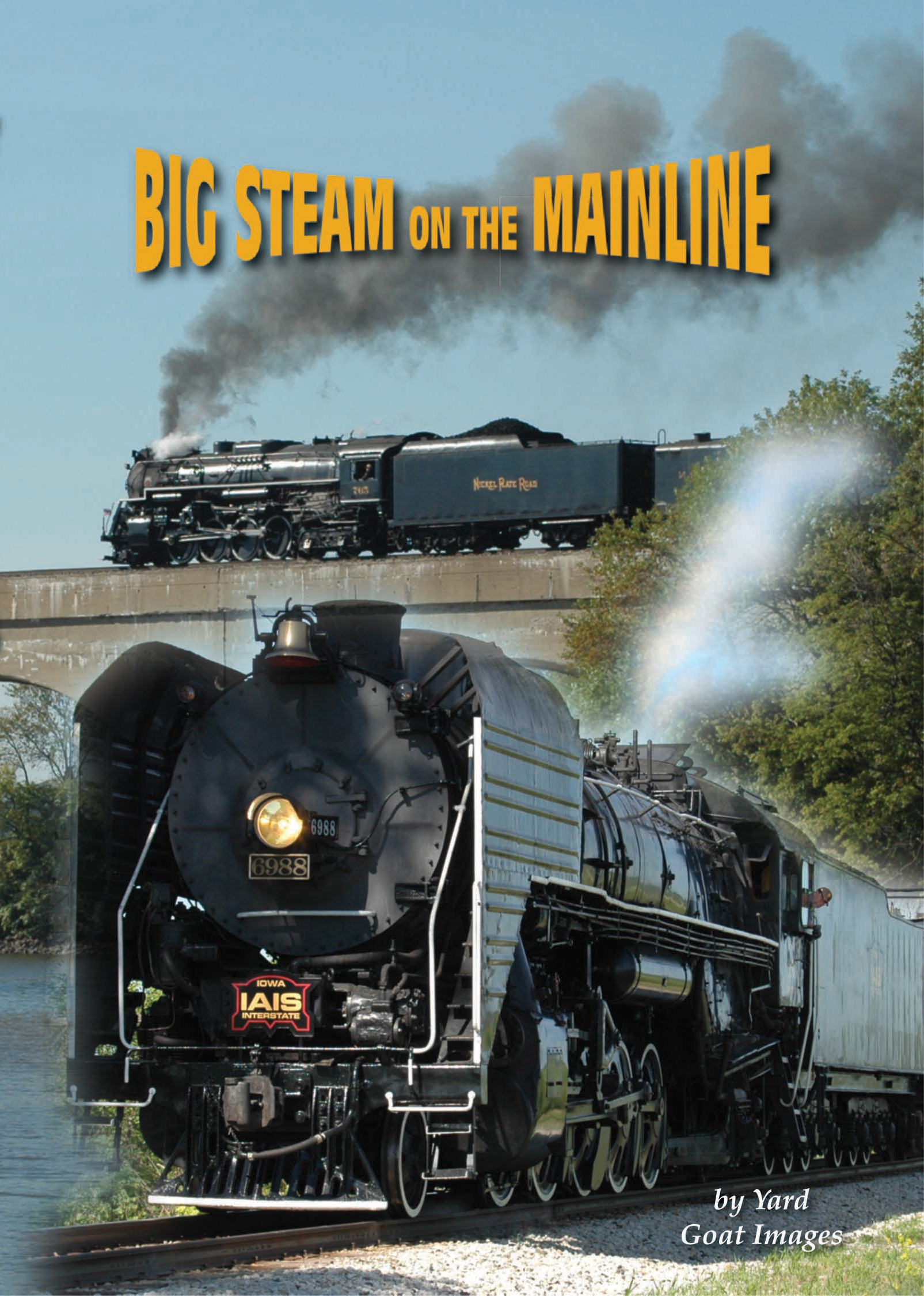 2012 was a great year for Big Steam on the Mainline, and this DVD presents some of the highlights!
NKP 765 was called into service with the Norfolk Southern as the railroad celebrated its 30th anniversary. The 2-8-4 pulled weekend Employee Specials all over the system, with positioning moves during the week. Our journey with 765 began at the Fort Wayne Railroad Historical Society's base and took us along the former Wabash route to St. Louis, MO.
The big engine pulled four Employee Special trips in suburban St. Louis, accompanied by two NS Heritage Units in Wabash and Illinois Terminal paint schemes. Then we take a fast trip back to Fort Wayne with
no diesels
- just 765!
The next chapter features UP 844, which was also heavily used in 2012 all over the Union Pacific's 23 states to commemorate the railroad's 150th birthday! First we head east from Council Bluffs to Des Moines, IA. After a stint at the Iowa State Fair, we left Des Moines for Salina, KS, by way of Kansas City. All along the way, crowds met the train at scheduled stops in all kinds of weather.
The Class A railroads were not the only ones running Big Steam on the Mainline. Iowa Interstate Railroad ran 6988, one of its two QJs, in fundraising trips for two on-line community fire departments. Our cameras capture the 2-10-2 performing in its new "Americanized" livery, including some extended pacing scenes through the Iowa countryside.
Running time approximately 95 minutes - Multiple videographers with tripod-mounted HD cameras caught the action from more locations and angles - Conveniently organized by chapters - Minimal narration - less talk, more action!
You can also rent or buy this program here -> VIDEO ON DEMAND

Preview - Big Steam on the Mainline DVD from Steve Mitchell on Vimeo.
$25 In stock