We don't just feature the same handful of trains you find on other sites. We've gone out of our way to cover trains and train subjects that have been ignored for far too long. We even take you to festivals, special events and museums that celebrate America's long love affair with the historic steam train.
Browse our online catalog! Use the Sort by to find the DVDs you're looking for. You can also Search products in the search box to your right by entering a word or number (frisco, 261, etc.) Click on the DVD covers for full descriptions and video preview. Some items are available in money-saving Combo Sets. We accept all major credit cards. Payment by check can also be made.
Friend us on Facebook for exclusive sales and offers. Join our newsletter for the latest from the tracks.

By Coal, Volt and Oil: Iowa Rail Excursions
1217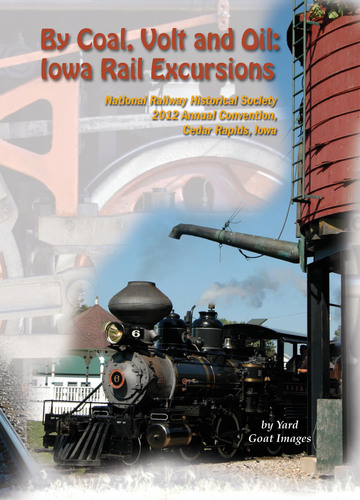 Our two-DVD program chronicles 8 railroad trips which were part of the National Railway Historical Society (NRHS) 2012 Annual Convention held in Cedar Rapids, Iowa. Participants rode behind three different coal-fired steam locomotives on mainline and museum trips, many different diesel locomotives on mainline excursions, and in electric-powered traction cars at two museums. Our program presents all 8 days of Iowa Rail Excursions in chronological order, each with its own chapter.
Union Pacific/Amtrak Special - Chicago to Cedar Rapids
A day at Midwest Old Threshers at Mount Pleasant, IA
Iowa Interstate steam trip between Cedar Rapids and Rock Island, IL
Iowa Interstate steam trip between Cedar Rapids and Newton, IA
A day at Boone & Scenic Valley Railroad and Museum, Boone, IA
Cedar Rapids & Iowa City diesel trip between Cedar Rapids and Iowa City, IA
Iowa Northern diesel trip between Cedar Rapids and Waterloo, IA
Iowa Northern diesel trip between Cedar Falls, IA and Manly, IA
The trips seen here were unique, one-time events that will not happen again. Museum visits included locations and activities not available to the public. This is an historic record that goes beyond a souvenir of the the NRHS Convention. 137 Minutes on 2 DVDs - You will want this in your collection!
Multiple videographers with tripod-mounted HD cameras caught the action from more locations and angles
Conveniently organized by chapters
Minimal narration - less talk, more action!
$25 In stock