We don't just feature the same handful of trains you find on other sites. We've gone out of our way to cover trains and train subjects that have been ignored for far too long. We even take you to festivals, special events and museums that celebrate America's long love affair with the historic steam train.
Browse our online catalog! Use the Sort by to find the DVDs you're looking for. You can also Search products in the search box to your right by entering a word or number (frisco, 261, etc.) Click on the DVD covers for full descriptions and video preview. Some items are available in money-saving Combo Sets. We accept all major credit cards. Payment by check can also be made.
Friend us on Facebook for exclusive sales and offers. Join our newsletter for the latest from the tracks.

Can't You Hear the Whistle Blowing? - Audio CD
1320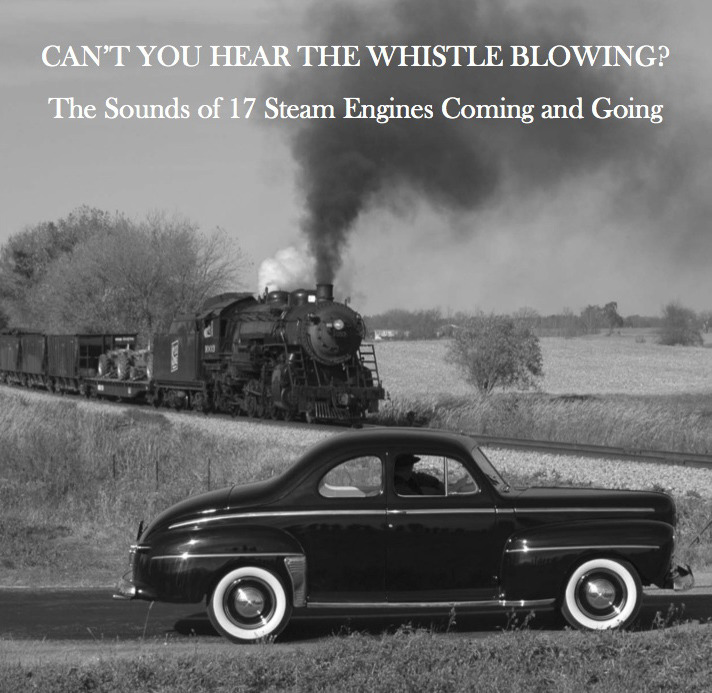 After receiving many requests for an audio CD over the years, we finally got busy and created something to be proud of!
The 75 minute CD contains 29 of our favorite audio tracks featuring 17 different steam locomotives. Inside the CD you will find detailed track notes so you know exactly what is happening at the time of recording. There's also a list of the steam locomotives along with wheel arrangements, the locomotive builder and year, and the original owner.
It's a lot of information about the great sounds you're hearing. I recommend a comfy chair, eyes closed, smile on face...
Steve Mitchell
Running time approximately 75 Minutes
$15 In stock