We don't just feature the same handful of trains you find on other sites. We've gone out of our way to cover trains and train subjects that have been ignored for far too long. We even take you to festivals, special events and museums that celebrate America's long love affair with the historic steam train.
Browse our online catalog! Use the Sort by to find the DVDs you're looking for. You can also Search products in the search box to your right by entering a word or number (frisco, 261, etc.) Click on the DVD covers for full descriptions and video preview. Some items are available in money-saving Combo Sets. We accept all major credit cards. Payment by check can also be made.
Friend us on Facebook for exclusive sales and offers. Join our newsletter for the latest from the tracks.

DM&IR 403
DMIR 403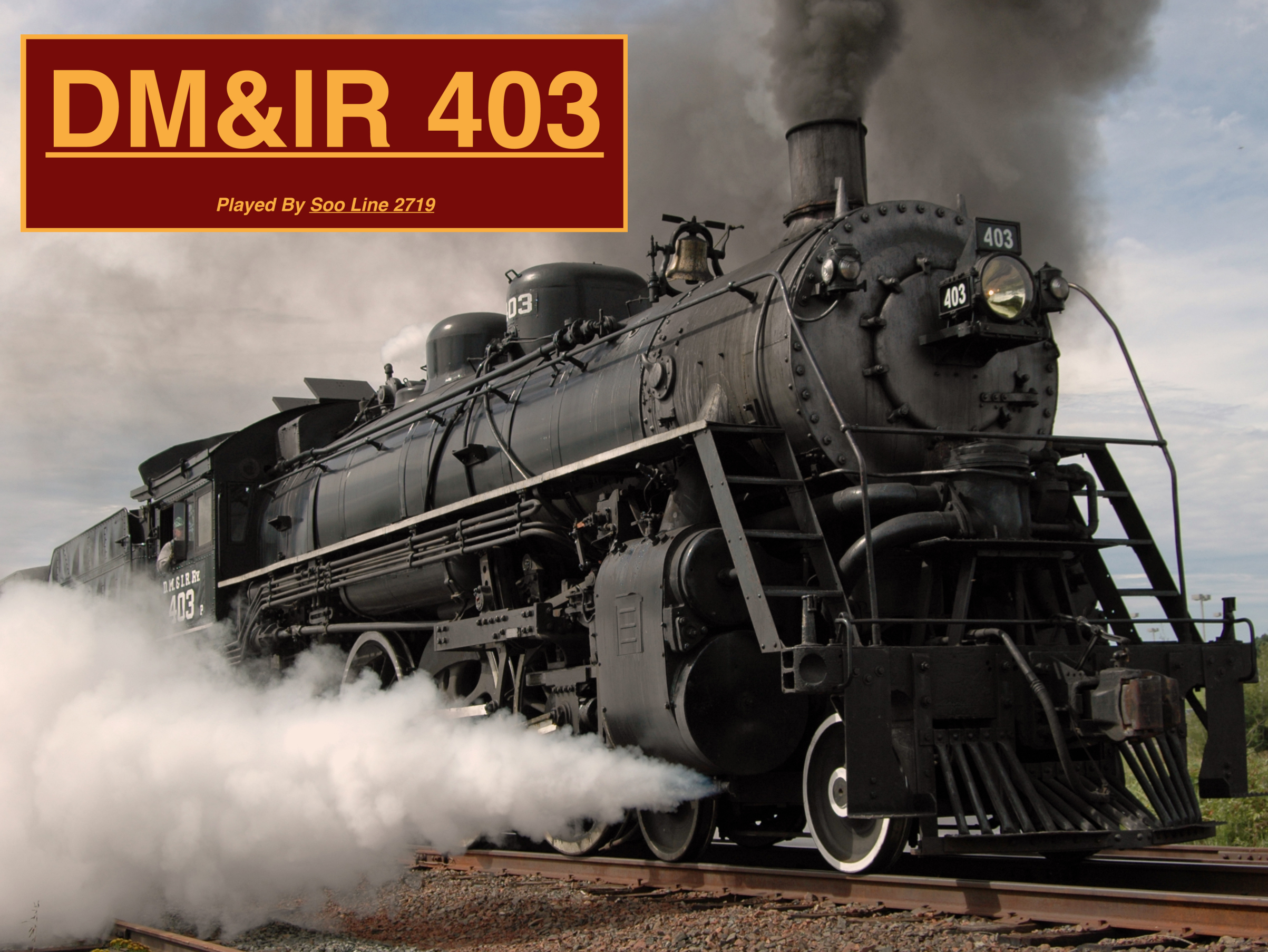 This program documents the historic photo charter of Duluth, Missabe and Iron Range #403!
Playing the part of 403 is Soo Line 2719, a 4-6-2 Pacific-type locomotive, which has been a frequent subject in our programs. She was built by ALCO in 1923, and worked in both passenger and freight service. It had been the last steam locomotive to work on the Soo Line when it was retired and put on display in Eau Claire, WI in 1959. A group called The Locomotive and Tower Preservation Fund, returned 2719 to operating condition, and performed a number of excursions over several different railroads. To ensure long term protection for the engine and more operating time, the group leased the engine to the Lake Superior Railroad Museum in Duluth, Minnesota.
While much of its collection is displayed indoors, the museum also runs the North Shore Scenic Railroad from Duluth to Two Harbors, MN, over the former Duluth, Missabe & Iron Range line. Soo Line 2719's extended operating certificate was about to expire in September 2013. With just one more week to go, the locomotive was transformed to play the part of Duluth, Missabe & Iron Range 403, for a one-day photo charter.
The DM&IR owned just three Pacific-type locomotives, numbered 400 to 402. Temporary changes including the herald, new number boards, and white paint applied to the lead truck and side rods made 2719 look the part of the imaginary fourth Pacific.
The headlight came from Duluth & Northeastern 28, which until 1955 was DM&IR 322. Two retired DM&IR cars, Coach 33 and Combine W-24 completed our passenger train, which we will view on home rails along Lake Superior!
The DM&IR 403 program is approximately 22 minutes. The DVD also includes extended previews and scenes from 7 additional DVDs!

$6 In stock