At Yard Goat Images, we don't just feature the same handful of trains you find on other sites.
We've gone out of our way to cover trains and train subjects that have been ignored for far too long. We even take you to festivals, special events and museums that celebrate America's long love affair with the historic steam train.
Browse our online catalog! Use the Sort by to find the DVDs you're looking for. You can also Search products in the search box to your right by entering a word or number (frisco, 261, etc.) Click on the DVD covers for full descriptions and video preview. Some items are available in money-saving Combo Sets. We accept all major credit cards. Payment by check can also be made.
Friend us on Facebook for exclusive sales and offers. Join our newsletter for the latest from the tracks.
In Our Store
Browse our online catalog! Use the Sort by to find the DVDs you're looking for. You can also Search products in the search box to your right by entering a word or number (frisco, 261, etc.) Click on the DVD covers for full descriptions and video preview. Some items are available in money-saving Combo Sets. We accept all major credit cards. Payment by check can also be made.
Grand Scale Steam/ATT & NW Friends Weekend Combo
1312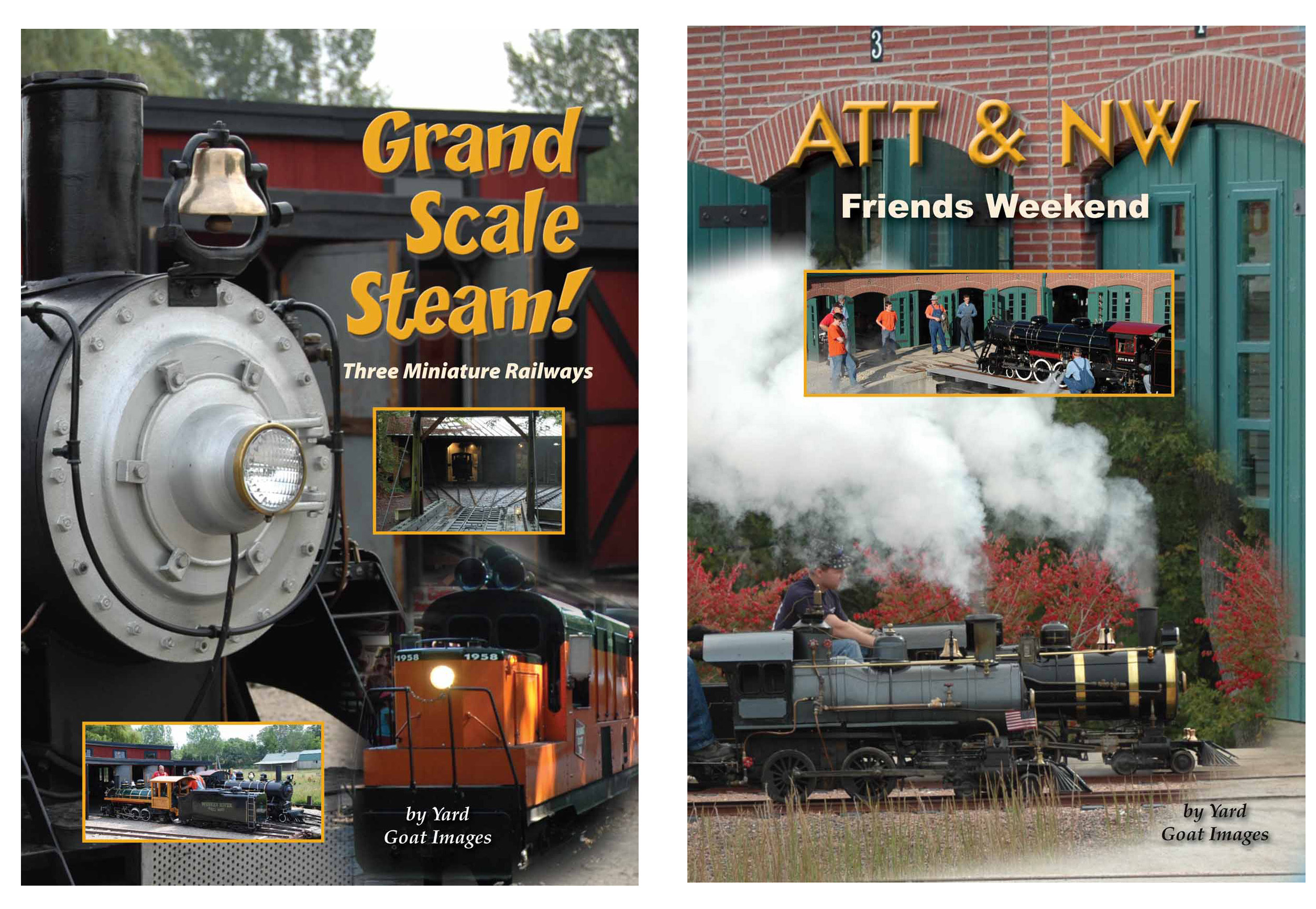 Grand Scale Steam: Three Miniature Railways
Live steam comes in many sizes, from the very small to the very large. Grand Scale railways, generally classified as operating with 12-24" gauge track, are popular with zoos, amusement parks and private operators throughout the world. Locomotives and rolling stock are usually large enough to ride inside, rather than straddling on top with smaller scales. Our program takes you to three fine North American examples of Grand Scale!
Whiskey River Railway - located in Marshall, Wisconsin, at Little Amerricka amusement park. The park and 16" gauge railroad were founded in 1991 by the late Lee W. Merrick. After departing the station, trains quickly leave the park rides behind as they pass through a long tunnel and enter a rural landscape that includes domestic farm animals plus zebras and other exotic creatures. Also on site is the Merrick Light Railway Equipment Works, which builds and restores locomotives and rolling stock. Four steam locomotives operated during our visit, including 4-6-2 Pacific #1919, which was built here.
Redwood Valley Railway - this 15" gauge railroad is perched high above San Francisco Bay near Berkeley, California. It was founded in 1952 by Western Pacific mechanical engineer, Erich Thomsen. All four of the railroad's oil-fired steam locomotives were built in the Redwood Valley shops. We'll see two locomotives in steam plus dramatic scenes of fog drifting along the route through stands of towering redwoods.
Milwaukee County Zoo Train - two steam locomotives built by Sandley Light Railway Equipment operate on this 15" line built in 1958. The line is a continuous loop which takes passengers around the beautiful grounds in about 12 minutes. The Zoo operated an extra-long train behind fast-moving 4-6-2 #1924 in honor of our visit. We also catch a little action with diesel #1958 in Milwaukee Road colors. Running time 81 minutes
ATT & NW Friends Weekend
The Arborway, TT and Northwestern, (ATT & NW) is a Grand Scale Miniature Railroad that runs on 15" gauge track through spectacular Missouri Ozark surroundings. There are more than three and a half miles of 2% grade single and double track main-line with two tunnels on the site's rolling terrain.
The inspiration for the ATT & NW came in the year 2000 from St. Louis businessman John R. Woods, who wanted to create a distinct and authentic site for family, friends, and business associates to gather. Sadly, not long after seeing his dream railroad become operational, John Woods died accidentally in 2008.
The Woods family has kept the railroad intact as a non-profit organization. The ATT&NW is not open to the general public, but it's possible to visit and volunteer after becoming a member of the Friends of the ATT & NW.
Our program was recorded at an annual Friends Weekend, which features running all of the ATT & NW locomotives and rolling stock along with visiting equipment well into the night, along with music, food, and good company.
We were impressed not only with the railroad and variety of equipment, but for the emotional attachment the volunteers seem to have for this magical place. We're grateful to the Arborway, TT & Northwestern for allowing us to bring you the events of the Friends Weekend! Running time 86 minutes
Multiple tripod-mounted HD cameras
Conveniently organized by chapters
Minimal narration - less talk, more steam action!
Combo Price - $35
Also sold separately - $25 each - Grand Scale, click here - ATT & NW, click here
Grand Scale Steam: Three Miniature Railways from Yard Goat Images on Vimeo.
The Arborway TT & NW (ATT&NW) Friends Weekend from Yard Goat Images on Vimeo.
The following video clips are excerpts from our DVD Collection. DVDs are available for purchase from our store. And now some of our stories are also available via Video On Demand!
To view an excerpt, click on a photo of your choice below. For more videos, subscribe to our YouTube and Vimeo Channels!
---
Custom DVD programs for railroad and trolley operating museums and attractions…
Custom DVD programs are more than just entertainment or something to sell. They can help inform casual visitors about the historical significance of your venue, the art of restoration and interpretation, and build awareness for the continuing need for volunteers and contributors to ensure future preservation.
Who can use custom DVD programs?
Mainline excursion railroads
Trolley operating museums
Railroad attractions
Live steam and garden railway clubs
Commercial short lines
Regional carriers
Transit agencies
Custom DVD programs can be sold in your gift shop and on your website. What's more, they can be used for promotional purposes such as contributor premiums, grant proposals, and marketing tools.
About our custom DVD services…
Custom DVDs are printed, packaged in a DVD case with full color graphics.
Video Editing
If you already have quality footage, we can edit your material to produce a DVD.
How custom DVD programs will benefit your Museum, Attraction or Club
Your customers are more likely to buy a DVD if it is about

YOUR

operation vs. a general railroad subject.
A DVD retailing at your store for $20-25 will produce additional

revenue

for your organization.
A custom DVD will showcase what

you

are doing:

Restoring
Operating
Preserving
Volunteering
Entertaining
Educating & interpreting
Enhancing community
Bringing visitors to the area
Having fun
Not only can you sell a custom DVD in your shop or online, but you can also offer it as a premium for contributing to your annual appeal or special fundraiser.
A professionally produced custom DVD will enhance the image of your operation.

High quality video with interesting shots in different lighting and weather conditions
Tripod mounted cameras
Special attention to sound quality and minimizing wind noise
Tight editing
Incorporation of still images into the video
Interesting effects and transitions
Narration and titles or titles only
Chapters
Licensed music
We can also produce training and safety programs for your volunteers, or other video projects you have in mind.
We can produce a master program or several unique programs for promotion, customer sales, investor information, employee incentives, safety, online sales, etc.
A custom DVD about your operation could:

Highlight your normal operations (and perhaps a few staged scenes)
Demonstrate your core competencies, reliability, and safety
Emphasize good management of facilities and equipment
Clarify the mission of your operation
Incorporate historic photos and film/video footage if available
Provide contact information
Call us with your ideas!
Commercial & Transit Benefits
A custom DVD should retail for $20-25 and will produce income for your operation if you choose to sell copies to the general public
A custom DVD will showcase the good things you are doing:

Operating proficiently
Providing good jobs
Performing your functions safely
Involving the communities you serve
Showing your concern for the environment
Promoting the benefits of rail transportation
Creating an enjoyable program for the viewer
A professionally produced custom DVD will enhance the image of your operation

High quality video with interesting shots in different lighting and weather conditions
Tripod mounted cameras
Special attention to sound quality and minimizing wind noise
Tight editing
Incorporation of still images into the video
Interesting effects and transitions
Narration and titles or titles only
Chapters
Licensed music
We can also produce training and safety programs for your employees, or other video projects you have in mind.
Video on Demand
Many of our programs are now available ON DEMAND!
Instead of ordering a DVD, paying shipping costs, and waiting patiently until the mail carrier arrives, you can now view select stories streamed directly to your internet-connected television or portable device. You could be watching one of your favorite locomotives in just a few minutes from right now!
Read Our Reviews
Have you purchased one or more of our videos? We'd love to get your comments and add them to our list of satisfied customers.
Yard Goat...funny name
A yard goat is an old rail term for locomotives that stay in the railroad yards, shuffling cars from track to track, and generally keeping things in order. Yard goats can be a specially made type of locomotive for this task, but often are re-purposed "road" engines with too many miles or simply too tattered for their former work.
When we think of steam or diesel locomotives, most people picture the powerful engines used to pull heavy freight trains, or streamlined beauties on the front of a fast passenger train. Few would remember the lowly yard goat that keeps things running smoothly, accurately, and on time.
Just as stagehands work in the dim light to move props or musical instruments when the stars have left the stage, the yard goatshuffles the cars behind the scenes in massive railroad yards.
Why we call ourselves Yard Goat Images…
We picked the name Yard Goat Images because we like what it stands for. We respect and admire those who work hard behind the scenes preserving, maintaining, and operating historic equipment. Many of these people are volunteers. Without them there would be no steam engines operating at museums, attractions, or pulling mainline excursions. There would be no streetcars or interurbans to ride.
We want you to see what they have accomplished, and the amazing work they continue to perform. Our aim is to celebrate what they do, and deliver a great program to you featuring this historic equipment.
So, I like to think we too are kind of like that humble railroad yard goat, not glamorous but working hard, making sure you can see a variety of operating historic railroad equipment courtesy of a bunch of pretty great people.
Midwest Steam 2009, Parts 1 and 2
Although no one would mistake it for the early 1990s, summer 2009 was a good season for large U.S. steam locomotives, anchored by the Steam Railroading Institute's Train Festival 2009 in Owosso, Mich. The iron horses put on a fine show across the Midwest, as captured by the Yard Goat Images video crew. The star performer was Southern Pacific Daylight 4-8-4 No. 4449, which traveled cross-country from Portland, Ore., to join the festival. This DVD has some stirring action sequences of the Daylight engine roaring across North Dakota, Minnesota, and Wisconsin, in both directions, in addition to its more subdued operations at Owosso.
Sharing the limelight at Owosso (and also in a separate sequence in North Judson, Ind.) is Nickel Plate 2-8-4 No. 765, looking fabulous after its overhaul. The only disappointment is Pete Marquette 2-8-4 No. 1225: The institute's "host engine" was on restricted duty due to a mechanical problem.
The producers round out the Midwest big-steam action with some nice scenes of Soo Line 4-6-2 No. 2719 performing out of Duluth, Minn., at the 2009 National Railway Historical Society convention, as well as a glimpse of an impressive newcomer: Santa Fe 4-6-2 No. 3415, fresh from its restoration on the Abilene & Smoky Valley Railroad in Abilene, Kan. Throw in some additional scenes in Michigan of Huckleberry Railroad's narrow-gauge, ex-Denver & Rio Grande 2-8-2 No. 464 and Little River Railroad 4-6-2 No. 110 and you have the makings of a respectable steam season.
The producers let their excellent videography do the talking: They live up to their promise of "minimal narration."
Kevin P. Keefe
Review from Trains Magazine, July 2010, Vol.70, Issue 7, Page 67
Nicely Done DVDs
Midwest Steam 2009, Parts 1 and 2
Yard Goat Images, 112 3rd Avenue NE, Minneapolis, MN 55413. (612) 623-0167, www.yardgoatimages.com
These nicely-done DVDs, each lasting approximately 100 minutes, cover the newly-restored Nickel Plate Road #765 at the Hoosier Valley Railroad in North Judson, Indiana; the Little River Road at Coldwater, Michigan; chasing the Southern Pacific #4449 in North Dakota, Minnesota, Wisconsin, Illinois, Indiana and Michigan; the Huckleberry Railroad in Flint, Michigan; and the 2009 train festival in Owasso, Michigan, as well as the SP's all-day excursion from that festival.
Part I of the DVD covers more of the eight operating locomotives at the Owosso festival, as well as the movements by the SP's #4449 to and from the festival, and the NRHS 2009 convention using Soo Line's #2729.
With excellent narration, plenty of helpful subheads on the screen and excellent photography, we're offered a great variety of action run-bys, closeup shots and switching movements of a wide range of steam power that should keep you glued to the couch for a long time.
From the Little River's #110, to the heavy duty NKP #765, to tank engines, to the Huckleberry's #464 2-8-2, and the beautifully streamlined and powerful SP #4449, the viewer will be more than pleased with this fast-paced series of train action.
These DVDs are well planned, organized and narrated.
S Gaugian
Review from s-gaugian, September/October 2010, Vol. XLVIII, No. 5, Page 40
Non-Stop Action
Steamin' Summer, Volumes 1-3
YARD GOAT DVDS. Yard Goat Images, 112 3rd Ave., N.E., Minneapolis, MN 55413
Here's a three-pack of DVDs that is sure to get you through the summer and early fall.  Sit back and relax as you sample various steam runs and railroad museums from the Rock Island, Illinois Train Festival in 2011 to Southern Railway steam at the Monticello, Illinois Railroad Museum to the Little River Railroad's #110 steamer celebrating 100 years.
With heat nearing 100 degrees in the Midwest in 2011, this potpourri of steam footage was doubly appreciated by railfans; but the cabs of the steam locos were pretty uncomfortable.  In Volume I, the Little River Railroad in Coldwater, Michigan threw a three-day party for their 100-year-old 4-6-2 Pacific logging locomotive.  Three visiting tank engines, Viscose Company #6, Flagg Coal #75, and Lehigh Valley Coal #126 were guests of honor.  Little River Railroad #1, also a tank engine, made for a total of five steam engines.
The first two days featured four daily trips between Coldwater and Quincy, each pulled by one of the tank engines, and a longer trip to Hillsdale, Michigan pulled by #110.  On day three, all five engines teamed up to power two trips to Quincy; talk about smoke and steam and action.
Following their operation on the Little River Railroad, all three visiting tank engines participated in the four-day Rock Island Train Festival.  This program shows how the engines were loaded on trucks and shipped over the highway.
In Volume 2, which is 80 minutes long, Iowa Interstate Railroad's two Chinese QJs traveled to the Rock Island festival as a doubleheader, the first day with a passenger consist from Newton to Iowa City.  The next day the locos brought a record-setting 55-car freight train to Rock Island.  The DVD shows the first look at QJ #6988 after some cosmetic changes and a new whistle made it appear and sound more like a North American steam locomotive.  Next the program covers a portion of Nickel Plate #765's journey across Indiana on the Toledo, Peoria & Western Railway.
The Silver Creek & Stephenson at Freeport, Illinois scheduled a Photographer's Special between the events at Little River Railroad and the Rock Island Train Festival.  Great steam action was provided by a 1912 Heisler, plus a Brookville "critter" as well as antique cars and trucks.  The DVD goes on to capture more footage at the Rock Island Train Festival, which brought together seven steam locomotives.
In Volume 3, which lasts 87 minutes, the Rock Island Train Festival is again featured, as is seeing the #765 travel home across Illinois to Logansport, Indiana.  This chapter features QJ #6988 with an all-day run to Iowa City and QJ #7081 on two Walcott, Iowa trips on Day 3.  More coverage begins with the historic diesel-powered Nebraska Zephyr trainset on an all-day journey to Bureau Junction, Illinois and an afternoon Walcott trip.  In addition, footage is shown of the doubleheaded QJs returning to Newton, Iowa carrying two Iowa Interstate business cars and a short freight train.
Last, we travel to Monticello where we see the growing Monticello Railway Museum on a warm August weekend.  The museum's newest operating locomotive, Southern #401, a beautiful 2-8-0 built in 1907, is under steam.  On display at the museum since 1971, it returned to steam in 2010 and operates one weekend per month.  The #401 was brought out of the northern Alabama hill country on three flatcars: one for the boiler, one for the tender and one for an extra set of drivers.  The Monticello museum has a large collection of operating diesels, freight and passenger cars, as well as miles of track on which to operate.  The museum is located in Illinois Central and Wabash country and features a number of pieces from each of these roads.
I enjoyed all three of these DVDs, from the non-stop action to the broad range of locomotive types to being able to enjoy all these trains and museums without having suffered the terrible heat of summer.  All the footage is professionally recorded, and a small four-page information sheet in each DVD holder provides a quick outline of each program.
–Don Heimburger
Don Heimburger - SN3 Modeler
Fall/Winter 2012, Vol. XXIX, No. 2, Copyright 2012 Heimburger House Publishing Company, page. 33
Subscribe Our Newsletter.
Join our mailing list to receive the latest news and updates from Yard Goat Images.
Contact Us
We'd love to hear from you!
If you have a question about a product that you see on this website or anything else, please complete the form below and we'll get back you.
Leave a message at: 612-623-0167
Thank you for your interest in Yard Goat Images!