We don't just feature the same handful of trains you find on other sites. We've gone out of our way to cover trains and train subjects that have been ignored for far too long. We even take you to festivals, special events and museums that celebrate America's long love affair with the historic steam train.
Browse our online catalog! Use the Sort by to find the DVDs you're looking for. You can also Search products in the search box to your right by entering a word or number (frisco, 261, etc.) Click on the DVD covers for full descriptions and video preview. Some items are available in money-saving Combo Sets. We accept all major credit cards. Payment by check can also be made.
Friend us on Facebook for exclusive sales and offers. Join our newsletter for the latest from the tracks.

Heritage Steam in Canada: Four Western Railways
1215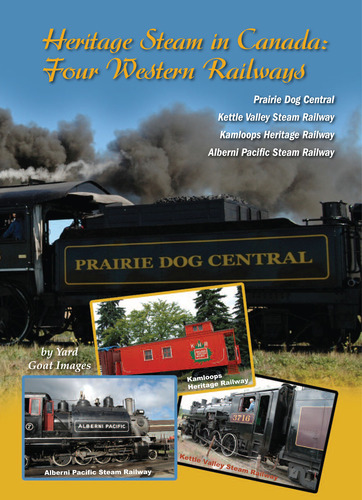 Four Chapters -
Prairie Dog Central - This railroad operates from Inkster Junction on the outskirts of Winnipeg, Manitoba to the hamlet of Grosse Isle. The route is straight as an arrow over one of the flattest landscapes in North America. Steam locomotive #3 is a 4-4-0 built in Scotland in 1882 by Dubs & Company and pulls wooden passenger equipment over 100 years old!
Kettle Valley Steam Railway - Canadian Pacific 3716 is a 2-8-0 built in 1912 by Montreal Locomotive Works. The route features dramatic views of of the mountains, valleys, and fruit orchards in and around Summerland, BC, including the spectacular Trout Creek Trestle, the third highest railway bridge in North America.
Kamloops Heritage Railway - This railroad features 2-8-0 #2141, a beautifully restored locomotive built in 1912. The engine moved under its own power in 2002 after an eight year effort by volunteers. Our visit began on Canada Day with an evening departure of the "Fireworks Special" and the next day with the first regular trip of the season.
Alberni Pacific Steam Railway - The Vancouver Island railroad operates #7, a 2-8-2 tank engine built by Baldwin in 1929. The engine worked for several forest industry owners and finished its career in mill switching service as late as 1972. It's restored to its Alberni Pacific Lumber Company livery and carries passengers from the Port Alberni depot to the McLean Mill. This is a working example of a remote lumber camp and sawmill from the mid 20th century featuring an operating steam donkey.
Multiple tripod mounted HD cameras
Running time approximately 104 minutes
Conveniently organized by chapters
Minimal narration - less talk, more steam action!
DVD - Heritage Steam in Canada: Four Western Railways from Steve Mitchell on Vimeo.
$25 In stock