We don't just feature the same handful of trains you find on other sites. We've gone out of our way to cover trains and train subjects that have been ignored for far too long. We even take you to festivals, special events and museums that celebrate America's long love affair with the historic steam train.
Browse our online catalog! Use the Sort by to find the DVDs you're looking for. You can also Search products in the search box to your right by entering a word or number (frisco, 261, etc.) Click on the DVD covers for full descriptions and video preview. Some items are available in money-saving Combo Sets. We accept all major credit cards. Payment by check can also be made.
Friend us on Facebook for exclusive sales and offers. Join our newsletter for the latest from the tracks.

Limited Time 3 DVD COMBO
0123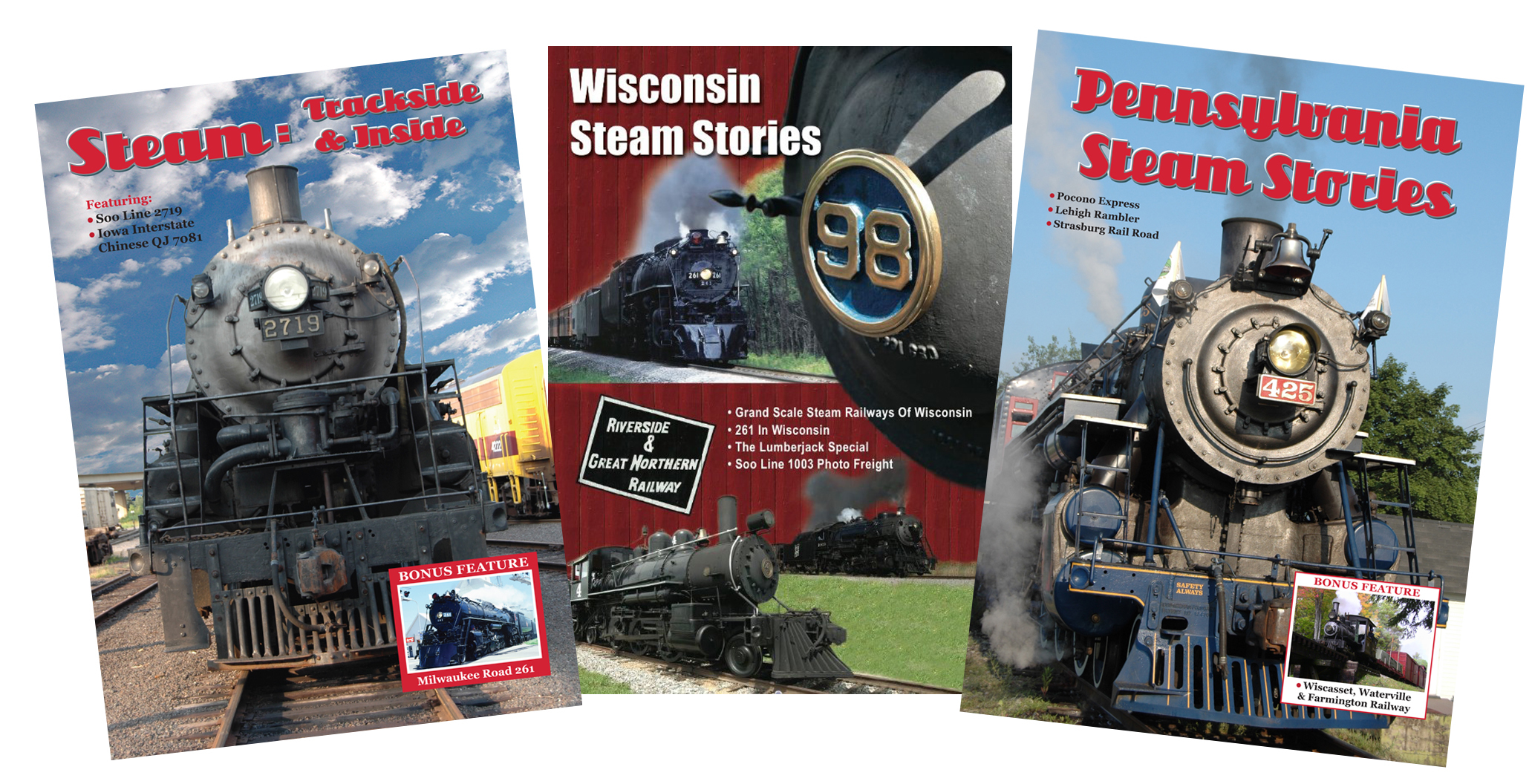 Buy all three DVDs now and save!
Steam: Trackside & Inside
Soo Line 2719 - this beautiful 4-6-2 Pacific was built by ALCO in 1923. Owned by the Locomotive & Tower Preservation Fund, it is leased to the Lake Superior Railroad Museum in Duluth, Minnesota, where it operates for only a few weekends per year plus occasional charters. Our program will show you what it takes to bring the engine back to life for the first revenue trip of the season from trackside and inside. We also present two all-day round trips between Duluth and Two Harbors, Minnesota, along the shore of Lake Superior. Want more? We ride along with the engine crew to show what goes on inside the cab as the engine is turned on Canadian National's Two Harbors wye.
Iowa Interstate Chinese QJ 7081 - over 4700 of these 2-10-2 engines were built, mostly by Datong Locomotive Works. In 2006, Railroad Development Corporation, parent company of Iowa Interstate (IAIS), purchased two and brought them to Newton, Iowa. We are pleased to to present 7081 performing fundraising trips in support of the Earlham, Anita, and Atlantic Fire Departments. All three western Iowa communities are served by IAIS. Our coverage includes a ferry move from Newton to Earlham the day before the weekend fundraisers, the Saturday trips from Earlham to Stuart, the ferry move to Atlantic, and the Sunday trips between Atlantic and Anita.
Bonus Feature: Milwaukee Road 261 - The Milwaukee Road Historical Association held its 2001 convention in Montevideo, Minnesota. Montevideo was a division point on the Milwaukee and is the home of the Milwaukee Road Heritage Center. Today the line is operated by the Twin Cities & Western Railroad. Our program, using analog video from our archives, presents convention trips east and west of Montevideo, both trackside and inside the train. Some of the convention trips had a rare all-Milwaukee Road consist pulled by the handsome 261. We also follow the charter train as it returns to Minneapolis.
Steam: Trackside & Inside running time approximately 91 minutes
Wisconsin Steam Stories
Grand Scale Steam Railways Of Wisconsin - "Grand Scale" describes a miniature railway large enough for the operator to ride inside the locomotive. Our feature takes you to three of the state's Grand Scale railways: the Riverside & Great Northern, the Milwaukee Zoo, and the Whiskey River. The locomotives are small, but they work and sound like their big brothers. We also explore the history of building Grand Scale equipment in Wisconsin by yesterday's Sandley Works and today's Merrick Light Railway Equipment Works.
261 In Wisconsin - Our program covers several trips in different years made by Milwaukee Road 261, focusing primarily on round trips between Milwaukee and New Lisbon. This was home territory for the big Northern when it was still in service for the Milwaukee Road!
The Lumberjack Special - The Laona & Northern carries passengers from its hometown to the Camp 5 Museum. Built in 1916 by Vulcan, 2-6-2 number 4 puts on a great show! We cover a day with the locomotive, beginning with the engine house crew starting the fire, greasing, washing, operating out on the line (including a cab ride), then back into the barn for the night.
Soo Line 1003 Photo Freight - 1003 is a 2-8-2 Mikado type locomotive, built in 1913 by the American Locomotive Company. We had a glorious October weekend; the images of 1003 and her train are stunning as the special worked its way between Hartford and Fairwater on the Wisconsin & Southern. Lots of runbys!
Wisconsin Steam Stories running time approximately 110 minutes
Pennsylvania Steam Stories
The Pocono Express - our cameras follow the National Railway Historical Society convention trip from Scranton, through the Pocono Mountains to Delaware Water Gap, PA. This one-time trip was powered by a trio of ALCO RS-3's one way, and Canadian National #3254 on the return. See runbys with the diesels and steam locomotive together and separate.
The Lehigh Rambler - our second NRHS convention trip travels from Duryea through Jim Thorpe and on to Port Clinton, PA. The motive power on this unique excursion is Reading & Northern #425, a beautiful 4-6-2 Pacific. Our coverage includes extensive action in the Jim Thorpe yard, including a spin on the tractor powered turntable.
Strasburg Rail Road - this Pennsylvania railroad institution served the small communities of Lancaster County from 1832 to 1957. In 1958 a portion of the line reopened as a tourist hauler. What distinguishes the Strasburg from other sites is the attention to preserving the line, its structures, and maintaining the atmosphere of what it looked like in the last days of operation. We'll take you behind the scenes to show yard action as well as regular excursion service.
Bonus Feature - We move a little further north and east to the state of Maine to enjoy a day at the Wiscasset, Waterville & Farmington Railway. This Maine two-footer features Vulcan #10. Captured on a day-long photo special, we have plenty of action throughout different lighting conditions, including early morning and evening views.
Pennsylvania Steam Stories running time approximately 90 minutes
We use multiple tripod-mounted cameras. All DVDs are conveniently organized by chapters, with minimal narration.
Also sold separately - $25 each:
$55 In stock