We don't just feature the same handful of trains you find on other sites. We've gone out of our way to cover trains and train subjects that have been ignored for far too long. We even take you to festivals, special events and museums that celebrate America's long love affair with the historic steam train.
Browse our online catalog! Use the Sort by to find the DVDs you're looking for. You can also Search products in the search box to your right by entering a word or number (frisco, 261, etc.) Click on the DVD covers for full descriptions and video preview. Some items are available in money-saving Combo Sets. We accept all major credit cards. Payment by check can also be made.
Friend us on Facebook for exclusive sales and offers. Join our newsletter for the latest from the tracks.

Midwest Steam: Part I
2814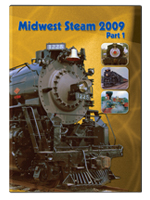 This DVD features:
• Newly restored Nickel Plate 765 at Hoosier Valley Railroad, North Judson IN
• Little River Railroad, Coldwater MI
• We follow SP 4449 Daylight through ND, MN, WI, IL, IN, to Train Festival 2009 in Owosso, MI
• Huckleberry Railroad, Flint MI
• Train Festival 2009 featuring 8 operating steam locomotives
• Train Festival all-day trip (Owosso-Alma MI) featuring SP 4449 Daylight
Running time approximately 98 minutes
Conveniently organized by chapters
Multiple cameras
Minimal narration - less talk, more steam action!
To read product reviews about this item Click Here
DVD - Midwest Steam 2009, Part 1 from Steve Mitchell on Vimeo.
$25 In stock