We don't just feature the same handful of trains you find on other sites. We've gone out of our way to cover trains and train subjects that have been ignored for far too long. We even take you to festivals, special events and museums that celebrate America's long love affair with the historic steam train.
Browse our online catalog! Use the Sort by to find the DVDs you're looking for. You can also Search products in the search box to your right by entering a word or number (frisco, 261, etc.) Click on the DVD covers for full descriptions and video preview. Some items are available in money-saving Combo Sets. We accept all major credit cards. Payment by check can also be made.
Friend us on Facebook for exclusive sales and offers. Join our newsletter for the latest from the tracks.

Soo Line Survivors
1702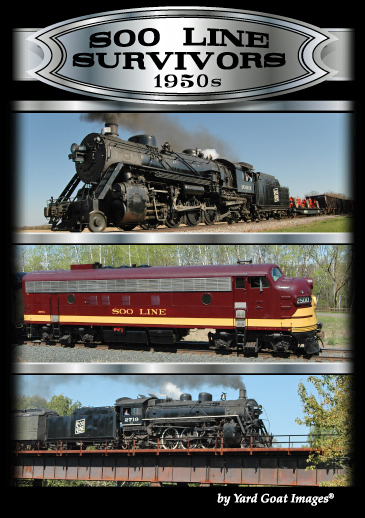 In the early 1950s, the Soo Line and its affiliated lines comprised a regional railroad system linking Minneapolis, Winnipeg, Duluth-Superior, Chicago, and its namesake city, Sault Ste Marie, Michigan. Agricultural products and manufactured goods moved on tracks stretching from Montana to the Great Lakes. The Soo faced post-war challenges of re-equipping its roster with diesels while getting the last miles from its steam locomotive fleet. Passenger service was an important but declining segment of the business in the early 1950s.
Thanks to preservation efforts starting with the Soo Line itself, and continuing with private groups and museums, examples of steam and early diesel locomotives are still with us. We can't actually return to the early 1950's, but we can do a bit of time travel with the help of three Soo Line survivors. For several years prior to 1954, all three of the locomotives in our program, 1003, 2500, and 2719 were going about their business on Soo Line rails at the same time. Perhaps they met along the way…
1003 - documents another legendary Autumn photo charter with the 2-8-2. Rural Wisconsin along with some spectacular sunset scenes.
2500 - a rare opportunity allowed us to participate in a sunny Spring photo charter on home rails in Wisconsin and Minnesota
2719 - celebrating the 4-6-2's career on the North Shore Scenic Railroad (2007 - 2013) with favorite scenes from our years of covering her.
Captured with multiple tripod-mounted HD cameras - Running time approximately 96 minutes - Conveniently organized by chapters - Minimal narration
$25 In stock