We don't just feature the same handful of trains you find on other sites. We've gone out of our way to cover trains and train subjects that have been ignored for far too long. We even take you to festivals, special events and museums that celebrate America's long love affair with the historic steam train.
Browse our online catalog! Use the Sort by to find the DVDs you're looking for. You can also Search products in the search box to your right by entering a word or number (frisco, 261, etc.) Click on the DVD covers for full descriptions and video preview. Some items are available in money-saving Combo Sets. We accept all major credit cards. Payment by check can also be made.
Friend us on Facebook for exclusive sales and offers. Join our newsletter for the latest from the tracks.

Steam Into History - The First Year
1460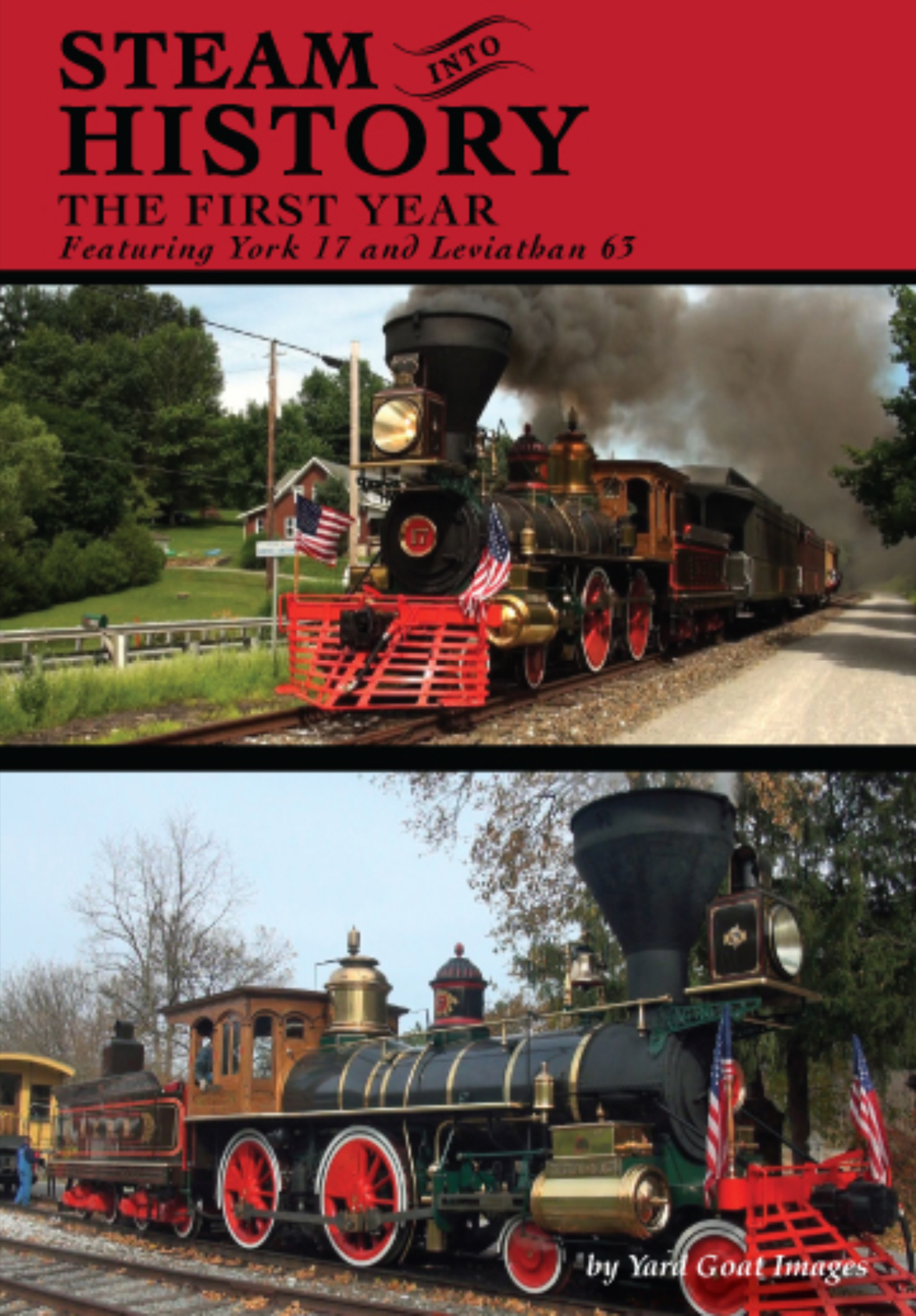 A significant chapter in North American railroading was born in 2013 as Steam into History began operating between the towns of New Freedom and Hanover Junction, Pennsylvania.
This line was once part of the Northern Central Railway. During the American Civil War, the Northern Central transported supplies and troops for the Union Army, and was itself a military target when rebel troops destroyed much of the railroad. After the Battle of Gettysburg, the railroad moved wounded troops through the towns to hospitals in northern cities. Abraham Lincoln changed trains at Hanover Junction as he traveled to the scene of this horrific battle and made his famous Gettysburg Address. Seventeen months later, Lincoln was assassinated. His funeral train went from Washington DC to Springfield, Illinois through major cities and small towns, including New Freedom and Hanover Junction. The depot where Lincoln stopped at Hanover Junction remains today.
Recognizing the significance of this railroad line, the founders of Steam into History set out to create a unique attraction which would appeal to a wide audience. They commissioned David Kloke to build a replica 4-4-0 locomotive. Mr. Kloke earlier had built another 4-4-0, the Leviathan, which we also see operating at Steam into History during its first season.
Footage for our program was created through repeated visits from June through November by videographer Jonathan Eau Claire. Chronicling equipment and operating changes, many special events, reenactments, and the changing of the seasons, this program is a fine documentary of Steam into History's first season!
As always, there is minimal narration. The running time approximately 93 minutes.
$25 In stock