We don't just feature the same handful of trains you find on other sites. We've gone out of our way to cover trains and train subjects that have been ignored for far too long. We even take you to festivals, special events and museums that celebrate America's long love affair with the historic steam train.
Browse our online catalog! Use the Sort by to find the DVDs you're looking for. You can also Search products in the search box to your right by entering a word or number (frisco, 261, etc.) Click on the DVD covers for full descriptions and video preview. Some items are available in money-saving Combo Sets. We accept all major credit cards. Payment by check can also be made.
Friend us on Facebook for exclusive sales and offers. Join our newsletter for the latest from the tracks.

Steam Locomotive Bells and Whistles
EXPRESS 1513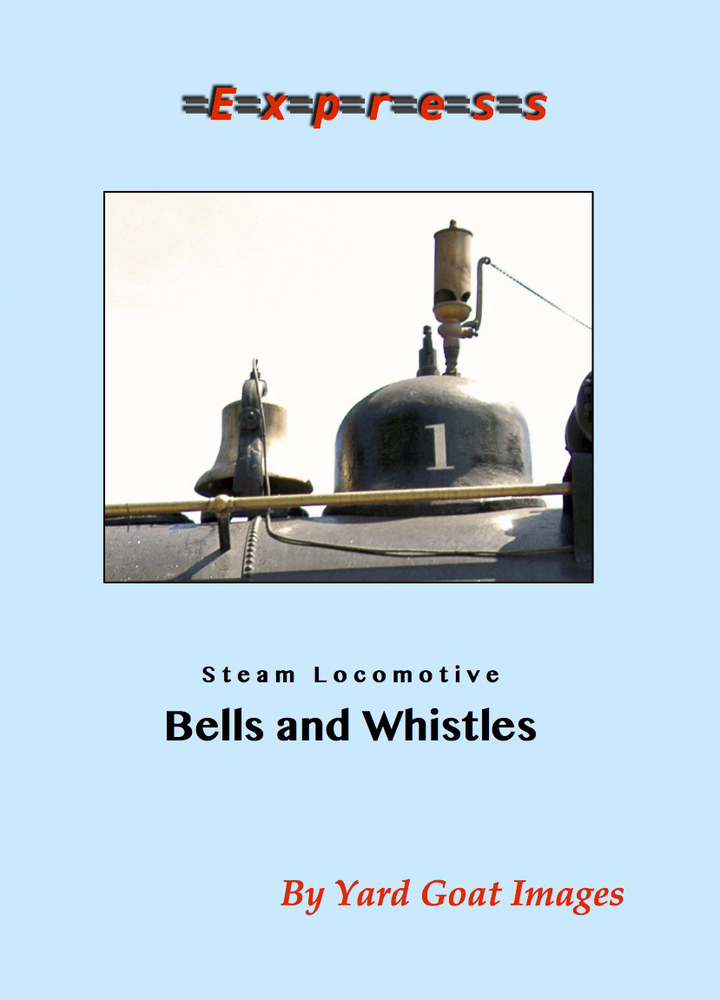 Ever since the early days of railroading, bells and whistles have played an important part in the safe operation of locomotives and trains. Our DVD Steam Locomotive Bells and Whistles demonstrates many examples of using these devices. We also explain why and when bells and whistles are used.
A steam locomotive's whistle is both a warning device and a means of communication. Before two-way radios were invented, railroad crews used various ways to "speak" with one another by using hand signals during the day, lanterns in darkness, and the sound of the steam whistle. You will learn what many whistle combinations mean to railroad crews and how they provide warnings to the general public.
We present samples of thirty different steam locomotives from our DVD library, using extended scenes to provide enjoyable examples of bells and whistles used to warn and communicate.
This informative program about bells and whistles is intended for younger railfans, but we think people of all ages will enjoy and learn something new while watching lots and lots of great steam action!
Our footage was captured with multiple tripod-mounted HD cameras / Running time approximately 52 minutes PLUS 42 minutes of previews of the DVDs used in the production of Steam Locomotive Bells and Whistles!
This Yard Goat Images EXPRESS DVD is shorter and specially priced. Order your copy today!
$16 In stock