We don't just feature the same handful of trains you find on other sites. We've gone out of our way to cover trains and train subjects that have been ignored for far too long. We even take you to festivals, special events and museums that celebrate America's long love affair with the historic steam train.
Browse our online catalog! Use the Sort by to find the DVDs you're looking for. You can also Search products in the search box to your right by entering a word or number (frisco, 261, etc.) Click on the DVD covers for full descriptions and video preview. Some items are available in money-saving Combo Sets. We accept all major credit cards. Payment by check can also be made.
Friend us on Facebook for exclusive sales and offers. Join our newsletter for the latest from the tracks.

Steam in the Mountains Combo (Volume 1 & 2)
1129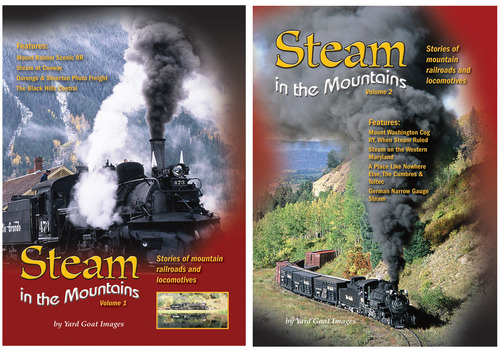 Steam in the Mountains - Volume 1
Stories of mountain railroads and locomotives
Mount Rainier Scenic RR is known for its collection of geared logging style locomotives from each of the major builders: Climax, Heisler, Shay, and Willamette. These were built for steep mountain grades and tight curves. We see five locomotives in operation during two visits, including a photo charter with log cars, and with the NRHS 2011 convention special.
Steam at Conway - we make a brief October visit to Conway Scenic Railroad in the White Mountains of New Hampshire and capture Canadian National #7470 pulling both passenger and freight trains.
Durango & Silverton Photo Freight
- here are our favorite scenes from a 2005 two-day charter, featuring runbys in areas only accessible by train. We encounter a snow storm the first day, and a backdrop of snow capped mountains on day two! (Analog)
The Black Hills Central - linking Hill City and Keystone South Dakota, this railroad has 4 steam engines and 2 diesels. Our program presents unique locomotive #110, an articulated 2-6-6-2T tank engine built for Weyerhaeuser Timber Co. It is perhaps the loudest locomotive we've ever recorded as it climbs Tin Mill Hill!
Running time approximately 93 minutes
Steam in the Mountains - Volume 2
Stories of mountain railroads and locomotives
Mount Washington Cog RY, When Steam Ruled - this is the oldest mountain-climbing cog railroad on earth, built in 1869. It was 100% steam powered until 2008 when the first of several home-built diesels appeared. We recorded this footage in October 2008 during the last days of steam, with as many as 4 locomotives visible at once. These scenes are no longer possible as diesels have taken over all but one trip up the mountain each day.
Steam on the Western Maryland - the Western Maryland RY operated in the Allegheny Mountains and was noted for its heavy freight traffic. Videographer Jon Snyder provides this beautiful footage from an autumn Carl Franz photo charter with Western Maryland 2-8-0 #734.
A Place Like Nowhere Else, The Cumbres & Toltec - this is perhaps the best example of narrow-gauge mountain steam railroading in North America, with equipment and line-side structures frozen in time. Here are some of our favorite scenes from an autumn 2005 photo freight special. (Analog)
German Narrow Gauge Steam - Harz Mountain Narrow Gauge and Zittau Narrow Gauge are two German railroads offering steam powered daily scheduled service to local travelers as well as tourists. Videographer Bob Oswald has been a frequent visitor and has provided us with spectacular wintertime footage of these two remarkable railroads.
Running time approximately 97 minutes
Multiple tripod-mounted HD cameras
Conveniently organized by chapters
Minimal narration - less talk, more steam action!
Combo Price - $35
Also sold separately - $25 each - Volume 1, click here - Volume 2, click here
$40 In stock