We don't just feature the same handful of trains you find on other sites. We've gone out of our way to cover trains and train subjects that have been ignored for far too long. We even take you to festivals, special events and museums that celebrate America's long love affair with the historic steam train.
Browse our online catalog! Use the Sort by to find the DVDs you're looking for. You can also Search products in the search box to your right by entering a word or number (frisco, 261, etc.) Click on the DVD covers for full descriptions and video preview. Some items are available in money-saving Combo Sets. We accept all major credit cards. Payment by check can also be made.
Friend us on Facebook for exclusive sales and offers. Join our newsletter for the latest from the tracks.

Steamin' Summer - Volume 1
1123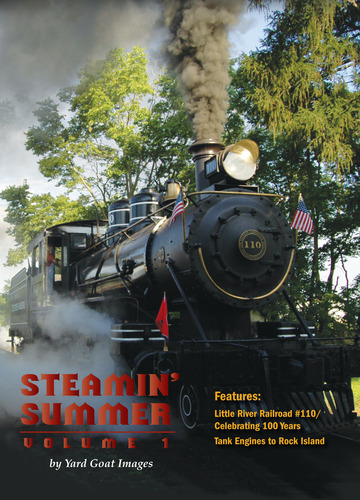 With 12 incredible days of steam action and some of the hottest days in the US Midwest since the 1930's, we could not think of a better name for our 3 Volume Steamin' Summer video project.
Little River Railroad #110 / Celebrating 100 Years - in honor of this milestone, Little River Railroad in Coldwater, Michigan threw an impressive three-day party for their 100 year old locomotive. Three visiting tank engines, Viscose Company #6, Flagg Coal #75, and (making its debut) Lehigh Valley Coal #126 were the guests of honor. Little River Railroad #1, also a tank engine, made for a total of five steam engines.
The first two days featured four daily trips between Coldwater and Quincy each pulled by one of the tank engines, and a longer trip to Hillsdale, Michigan pulled by #110. On the third day, all five engines teamed up to power two spectacular Quincy trips.
We cover it all!
Tank Engines to Rock Island - following their visit to Little River Railroad, all three visiting tank engines needed to go to the four-day Rock Island Train Festival. This programs shows how the engines are carefully loaded on special trucks and shipped as heavy loads over the highway.
Multiple HD cameras
Running time approximately 91 minutes
Conveniently organized by chapters
Minimal narration - less talk, more steam action!
DVD - Steamin' Summer Volume 1 - Yard Goat Images from Yard Goat Images on Vimeo.
$25 In stock