We don't just feature the same handful of trains you find on other sites. We've gone out of our way to cover trains and train subjects that have been ignored for far too long. We even take you to festivals, special events and museums that celebrate America's long love affair with the historic steam train.
Browse our online catalog! Use the Sort by to find the DVDs you're looking for. You can also Search products in the search box to your right by entering a word or number (frisco, 261, etc.) Click on the DVD covers for full descriptions and video preview. Some items are available in money-saving Combo Sets. We accept all major credit cards. Payment by check can also be made.
Friend us on Facebook for exclusive sales and offers. Join our newsletter for the latest from the tracks.

Steamin' Summer - Volume 2
1124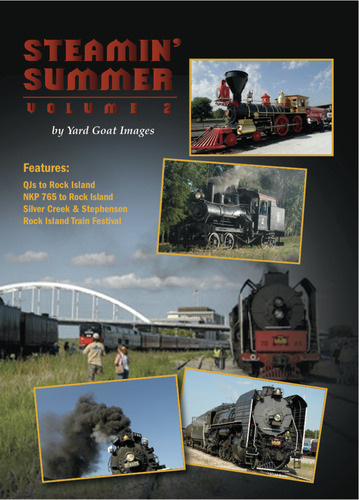 With 12 incredible days of steam action and some of the hottest days in the US Midwest since the 1930's, we could not think of a better name for our 3 Volume Steamin' Summer video project.
QJs to Rock Island - Iowa Interstate Railroad's two Chinese QJs traveled to the festival as a double-header, the first day with a passenger consist from Newton to Iowa City. The next day they brought a record-setting 55 car freight train to Rock Island. We get the first look at QJ 6988 after mostly cosmetic changes and a new whistle made it appear and sound more like a North American steam locomotive.
NKP 765 to Rock Island - we cover a portion of Nickel Plate 765's journey across Indiana on the Toledo, Peoria & Western Railway. The scorching heat actually caused the entire railroad to shut down for part of the day.
Silver Creek & Stephenson - the Freeport, Illinois operating railroad museum conveniently scheduled a Photographer's Special between the events at Little River Railroad and the Rock Island Train Festival. Great steam action provided by a 1912 Heisler, plus a Brookville "critter" and antique cars and trucks.
Rock Island Train Festival - Days 1 & 2 -
This one-time event brought together 7 steam locomotives, historic and modern diesels and more to a Mississippi River site in Rock Island, Illinois. The festival featured daily steam trips to Walcott, Iowa and all-day trips to other destinations pulled by steam and diesel. This chapter features Day 1 Walcott trips pulled by NKP 765 and QJ 6988 from onboard and trackside, and the all-day Bureau, Illinois excursion with 765 on Day 2. We also capture the excitement on the festival grounds both during the day and after hours, and a cab ride in 765.
Multiple HD cameras
Running time approximately 80 minutes Conveniently organized by chapters
Minimal narration - less talk, more steam action!
Steamin' Summer Volume 2 DVD - Yard Goat Images from Yard Goat Images on Vimeo.
$25 In stock