We don't just feature the same handful of trains you find on other sites. We've gone out of our way to cover trains and train subjects that have been ignored for far too long. We even take you to festivals, special events and museums that celebrate America's long love affair with the historic steam train.
Browse our online catalog! Use the Sort by to find the DVDs you're looking for. You can also Search products in the search box to your right by entering a word or number (frisco, 261, etc.) Click on the DVD covers for full descriptions and video preview. Some items are available in money-saving Combo Sets. We accept all major credit cards. Payment by check can also be made.
Friend us on Facebook for exclusive sales and offers. Join our newsletter for the latest from the tracks.

Steamin' Through The Seasons
1211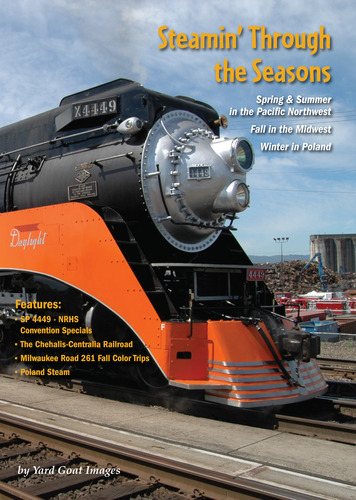 Spring & Summer in the Pacific Northwest, Fall in the Midwest, and Winter in Poland
SP 4449 - NRHS Convention Specials - the National Railway Historical Society 2011 Convention was held in Tacoma, WA. Southern Pacific 4449 made three special excursions for the event, including a rare mileage trip over Stampede Pass. We cover all three journeys featuring the colorful 4-8-4.
The Chehalis-Centralia Railroad - two days of operation featuring Cowlitz, Chehalis & Cascade number 15, a Baldwin 2-8-2 Mikado. The railroad operates over former Milwaukee Road trackage in western Washington. The NRHS convention trip (including 2 runbys) is featured in our program.
Milwaukee Road 261 Fall Color Trips - an annual tradition each Autumn were back-to-back Saturday and Sunday excursions between Minneapolis and La Crescent, MN. Our footage comes from trips over many years presented in the order of a typical weekend operation.
Poland Steam - The Wolsztyn Experience allows paying participants to fire and operate steam locomotives in actual scheduled commuter service! Videographer and locomotive engineer Bob Oswald has provided us with footage taken over four of his annual wintertime trips to enjoy active steam in Poland.
Multiple tripod mounted HD cameras - Running time approximately 104 minutes - Conveniently organized by chapters - Minimal narration - less talk, more steam action!
You can also rent or buy this program here -> VIDEO ON DEMAND

Steamin' Through The Seasons DVD from Steve Mitchell on Vimeo.
$25 In stock