We don't just feature the same handful of trains you find on other sites. We've gone out of our way to cover trains and train subjects that have been ignored for far too long. We even take you to festivals, special events and museums that celebrate America's long love affair with the historic steam train.
Browse our online catalog! Use the Sort by to find the DVDs you're looking for. You can also Search products in the search box to your right by entering a word or number (frisco, 261, etc.) Click on the DVD covers for full descriptions and video preview. Some items are available in money-saving Combo Sets. We accept all major credit cards. Payment by check can also be made.
Friend us on Facebook for exclusive sales and offers. Join our newsletter for the latest from the tracks.

The Michigan AuSable Valley Railroad
EXPRESS 1511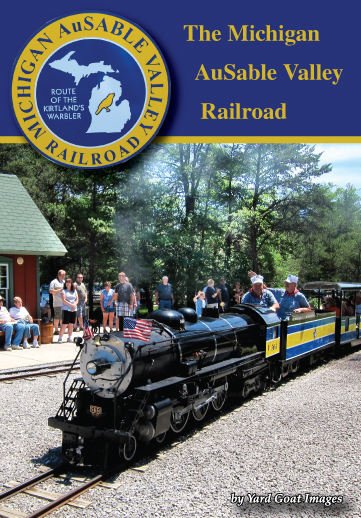 The Michigan AuSable Valley is a one-quarter-scale railroad operating on 16-inch track in Fairview, Michigan. It was designed and constructed by Howard Schrader in the 1990's. The railroad's route through mostly forested land was created to provide passengers with a variety of scenes and terrain during the 18-minute ride. It features a 115-foot long tunnel and two large wooden trestles. On site are authentic structures and buildings inspired by historic North American railroad architecture, including the depot, where Joanne Schrader serves as stationmaster. The buildings support the railroad operation as well as Schrader's Railroad Catalog, a business offering quality retail products for rail enthusiasts.
Motive power for the 1.5 mile mainline is a twin set of F-7 diesels and a 4-6-4 steam locomotive. The diesel set was constructed in 1997 by Custom Locomotive of Chicago. Each unit is 15 feet long and together weigh about 11,000 pounds. Powered by a Perkins 80 horsepower four-cylinder diesel engine, hydraulic motors in each of the four trucks provide power to all 16 wheels on the two units. The steam locomotive was built by the late Carrington Eddy, who constructed the 27-foot long locomotive from 1956 to 1961, and gave it the number 5661. The 4-6-4 Hudson is oil-fired and has 20-inch drivers. It is capable of pulling 10 or more cars carrying about 120 people.
Our program was captured during a weekend when both steam and diesel powered trains were operating, and happy riders came from near and far. We think you will be as impressed as we were by this fun and remarkable little railroad!
The video for this DVD is from multiple tripod-mounted and train-mounted HD cameras. The running time is approximately 46 minutes, wth minimal narration.
This EXPRESS DVD is shorter than many of our other products, and is specially priced!
The Michigan AuSable Valley Railroad DVD from Yard Goat Images on Vimeo.
$16 In stock