We don't just feature the same handful of trains you find on other sites. We've gone out of our way to cover trains and train subjects that have been ignored for far too long. We even take you to festivals, special events and museums that celebrate America's long love affair with the historic steam train.
Browse our online catalog! Use the Sort by to find the DVDs you're looking for. You can also Search products in the search box to your right by entering a word or number (frisco, 261, etc.) Click on the DVD covers for full descriptions and video preview. Some items are available in money-saving Combo Sets. We accept all major credit cards. Payment by check can also be made.
Friend us on Facebook for exclusive sales and offers. Join our newsletter for the latest from the tracks.

Trains Tractors Threshers - A Celebration of Rural Life
1710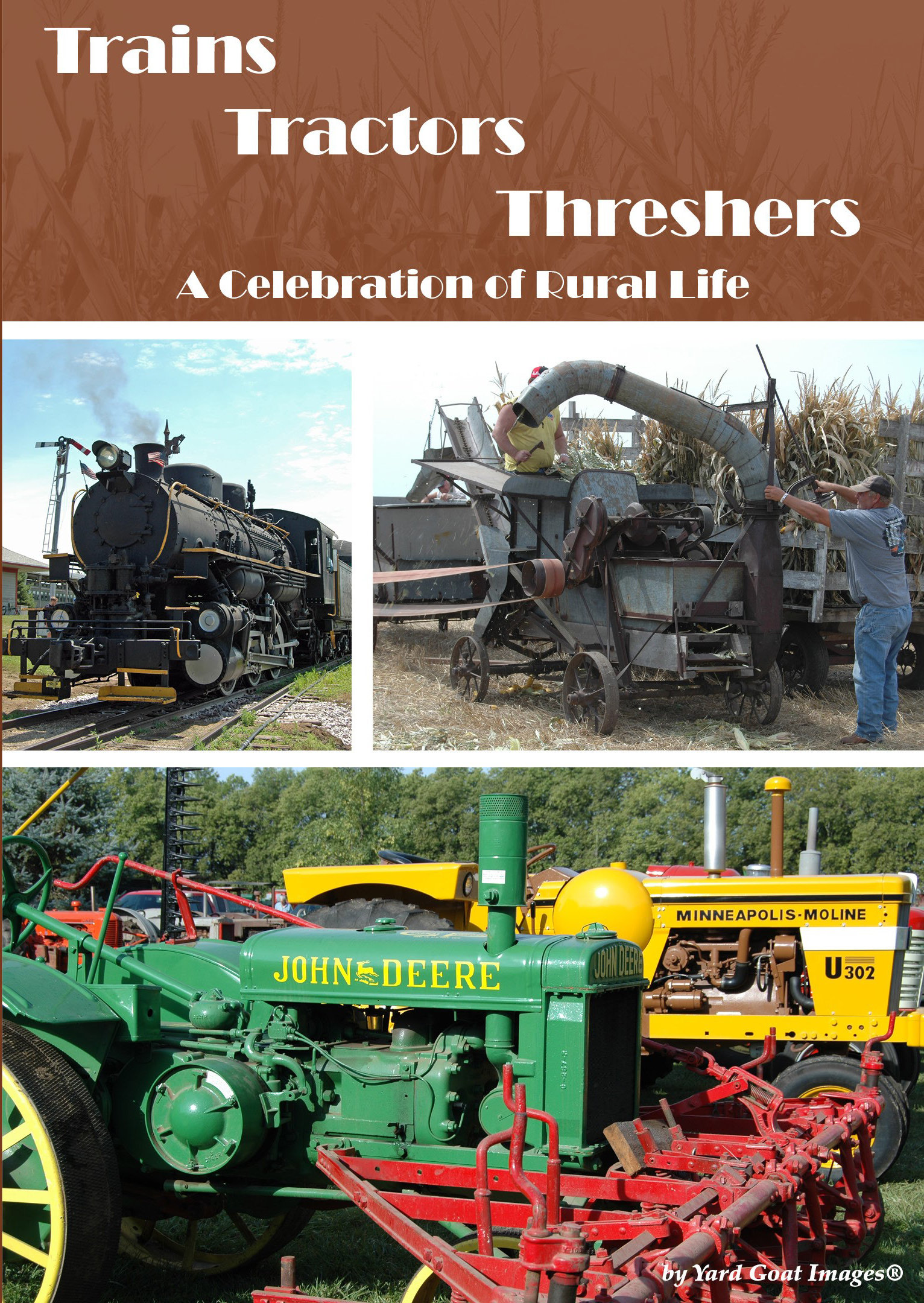 This program was made at Historic Prairie Village in Madison, SD. The 120-acre site has several blocks of streets like any small town. It's populated with structures moved here from surrounding small communities and farms. A two-mile railroad encircles the village and farmland. The two annual events held at Prairie Village are well-covered here.
Railroad Days is held during the summer. Steam and diesel engines depart from the Wentworth Depot. Former Duluth & Northeastern #29 is an 0-6-0 built by Lima in 1944. It started service in the Army before serving various industries until retirement in 1964. Also seen in service is former US Air Force center-cab #1687, several track speeders, and a reproduction "doodlebug".
We returned to film the Steam Threshing Jamboree, which is held Thursday through Sunday the week before Labor Day weekend. Everything from horse-powered threshers to homemade pumps to giant steam tractors stood row upon row. Demonstrations of steam and gas-powered milling equipment are followed by horse teams patiently powering a thresher. Corn is separated from cob, and wheat from chaff. Hay is baled. Furrows are turned as vintage tractors and their owners compete in plowing contests. During the day, proud farm families parade their vintage equipment. In the evenings, newer machines compete in raucous tractor pulls.
Here are images of the past with the trains of Railroad Days and samples of the color and sounds during the Steam Threshing Jamboree - Order your copy now !
Captured with tripod-mounted HD cameras - 98 minutes - Organized by chapters - Minimal narration
Trains, Tractors & Threshers - A Celebration of Rural Life from Yard Goat Images on Vimeo.
$25 In stock