We don't just feature the same handful of trains you find on other sites. We've gone out of our way to cover trains and train subjects that have been ignored for far too long. We even take you to festivals, special events and museums that celebrate America's long love affair with the historic steam train.
Browse our online catalog! Use the Sort by to find the DVDs you're looking for. You can also Search products in the search box to your right by entering a word or number (frisco, 261, etc.) Click on the DVD covers for full descriptions and video preview. Some items are available in money-saving Combo Sets. We accept all major credit cards. Payment by check can also be made.
Friend us on Facebook for exclusive sales and offers. Join our newsletter for the latest from the tracks.

Union Pacific Steam: New-Century Journeys
1603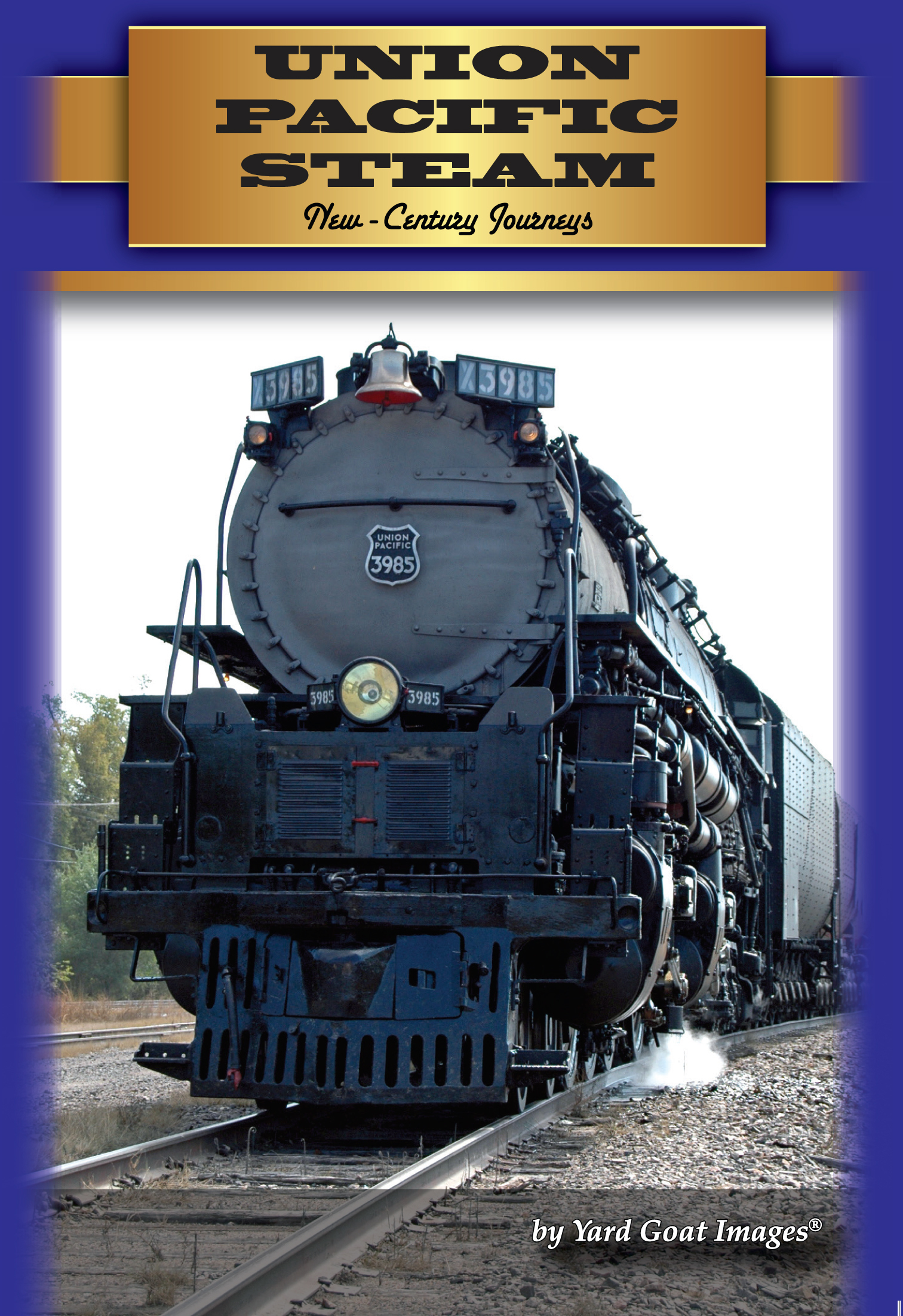 Our previously published first programs featuring UP locomotives 844 and 3985, now combined on one DVD!
3985 - We document our two-week journey in October, 2010 with UP 3985, the largest operating steam locomotive in the world at the time. The powerful Challenger class 4-6-6-4 articulated locomotive powered The Missouri River Eagle, a special which called on cities and towns like Kansas City, St. Louis, and Sedalia, MO (which was celebrating its 150th anniversary). Our incredible trip begins and ends in North Platte, NE. This chapter is a long and loving look at what may have been 3985's final trip!
Two Trains West - On November 13th, 2010, UP commemorated the 50th anniversary of its heritage steam program with 844 leading an excursion across Nebraska from Omaha to North Platte. This line is part of the first transcontinental railroad, which had its western terminus in Council Bluffs, IA, just across the river from Omaha. There it connected with eastern railroads such as the Rock Island. Today, Iowa Interstate Railroad operates the former Rock Island route. It took part in UP's celebration by sending one of its QJ steam locomotives to meet 844 in Golden Spike Park. We cover the travels of both locomotives and continue with 844 all the way home to Cheyenne, WY after the excursion.
Union Pacific - 150 Years of Steam - 844 was the last steam locomotive purchased by the railroad, and the only one never retired. To celebrate its 150th anniversary as a railroad in 2012, UP had an impressive schedule for 844 to pull the UP 150 Express. The railroad traces its beginnings to July 1, 1862, when Congress approved the Pacific Railroad Act to build the first transcontinental railroad. UP has grown to become the largest rail network in the US, with nearly 32,000 miles of track in 23 states. For our program we cover two legs of the UP 150 Express. The first was a two-day trip from Council Bluffs to Des Moines, IA, where it made an appearance at the Iowa State Fair. The second leg took the train on another two-day run from Des Moines to Salina, KS, by way of Kansas City.
Captured with tripod-mounted HD cameras - Running time approximately 112 minutes - Conveniently organized by chapters - Minimal narration
Union Pacific Steam: New-Century Journeys from Yard Goat Images on Vimeo.
$25 In stock