We don't just feature the same handful of trains you find on other sites. We've gone out of our way to cover trains and train subjects that have been ignored for far too long. We even take you to festivals, special events and museums that celebrate America's long love affair with the historic steam train.
Browse our online catalog! Use the Sort by to find the DVDs you're looking for. You can also Search products in the search box to your right by entering a word or number (frisco, 261, etc.) Click on the DVD covers for full descriptions and video preview. Some items are available in money-saving Combo Sets. We accept all major credit cards. Payment by check can also be made.
Friend us on Facebook for exclusive sales and offers. Join our newsletter for the latest from the tracks.

Vintage Diesels: Two West Virginia Photo Charters
WV Diesels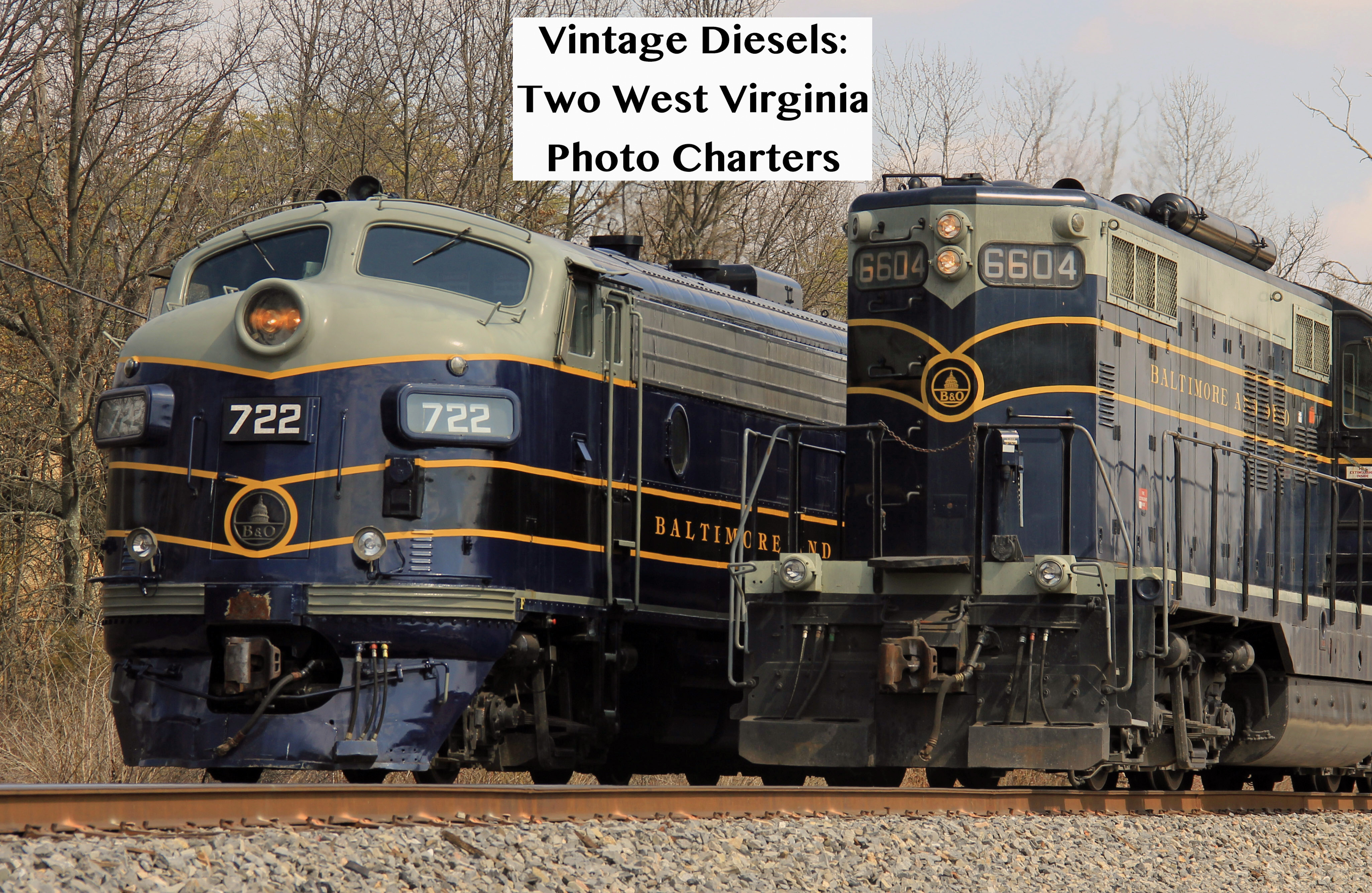 We present two photo charters in West Virginia -
The South Branch Valley Railroad is a 52 mile line owned and operated by the West Virginia State Rail Authority. It follows the South Branch Potomac River and has provided freight service to a variety of industries since 1978 when it was acquired from the B&O. The railroad also hosts the Potomac Eagle, an excursion train that operates during the summer and fall from Romney, WV through a section known as "The Trough", where bald eagles are commonly sighted.
Our rare mileage photo charter operated in the opposite direction from Romney on tracks that normally see only freight traffic. Vintage vehicles and people in period dress gave a 1950's feel to match the railroad equipment. F7A #8016 in C&O colors along with GP-9 #6604 and F7A #722 in B&O livery provided the power for freight and passenger trains. The charter organizers provided lots of action during a day that ended with a night photo session.
The second charter featured two trains operating on the Durbin & Greenbriar Valley Railroad along the beautiful Shavers Fork of the Cheat River. This railroad is also owned by the West Virginia State Rail Authority, but is operated by the privately-owned Durbin & Greenbriar Valley. The railroad runs four different excursion trains over various portions of the line as well as freight service for on-line customers.
The photo charter was organized by the Mountain States Railroad & Logging Historical Association, which also supports nearby Cass Scenic Railroad State Park. Two FP7A's, #67 and #243 in Western Maryland livery, powered our passenger train. GP9 #6641 in B&O colors powered a freight train. The charter operated between Cheat Bridge and the High Falls of Cheat. Along the way there were plenty of runbys and photo opportunities under changing weather conditions.
Our footage was captured with multiple tripod-mounted HD cameras. Running time approximately 46 minutes. The DVD is conveniently organized by chapters, with minimal narration.
This Yard Goat Images DVD is specially priced. Order your copy today!
$6 In stock