We don't just feature the same handful of trains you find on other sites. We've gone out of our way to cover trains and train subjects that have been ignored for far too long. We even take you to festivals, special events and museums that celebrate America's long love affair with the historic steam train.
Browse our online catalog! Use the Sort by to find the DVDs you're looking for. You can also Search products in the search box to your right by entering a word or number (frisco, 261, etc.) Click on the DVD covers for full descriptions and video preview. Some items are available in money-saving Combo Sets. We accept all major credit cards. Payment by check can also be made.
Friend us on Facebook for exclusive sales and offers. Join our newsletter for the latest from the tracks.

Pennsylvania Steam Stories
2811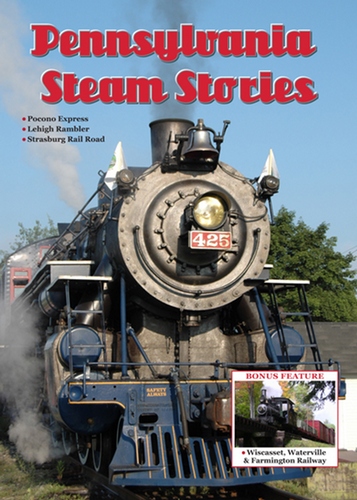 Pennsylvania Steam Stories brings you three unique stories from a state rich in railroading history, plus a bonus feature from the state of Maine.
The Pocono Express - our cameras follow the National Railway Historical Society convention trip from Scranton, through the Pocono Mountains to Delaware Water Gap, PA. This one-time trip is powered by a trio of ALCO RS-3's one way, and Canadian National #3254 on the return. See runbys with the diesels and steam locomotive together and separate.
The Lehigh Rambler - our second NRHS convention trip travels from Duryea through Jim Thorpe and on to Port Clinton, PA. The motive power on this unique excursion is Reading & Northern #425, a beautiful 4-6-2 Pacific. Our coverage includes extensive action in the Jim Thorpe yard, including a spin on the tractor powered turntable.
Strasburg Rail Road - this Pennsylvania railroad institution served the small communities of Lancaster County from 1832 to 1957. In 1958 a portion of the line reopened as a tourist hauler. What distinguishes the Strasburg from other sites is the attention to preserving the line, its structures, and maintaining the atmosphere of what it looked like in the last days of operation. We'll take you behind the scenes to show yard action as well as regular excursion service.
Bonus Feature - We move a little further north and east to the state of Maine to enjoy a day at the Wiscasset, Waterville & Farmington Railway. This Maine two-footer features Vulcan #10. Captured on a day-long photo special, we have plenty of action throughout different lighting conditions, including early morning and evening views.
Running time approximately 90 minutes - Conveniently organized by chapters - Multiple cameras
Minimal narration - less talk, more steam action!

$25 In stock