For your convenience, product titles may be viewed in a grid, list, or table. You can also sort the titles by different criteria below.
If your browser does not support JavaScript, please proceed to its simple HTML version.
Steamin' Summer - Volume 2
1124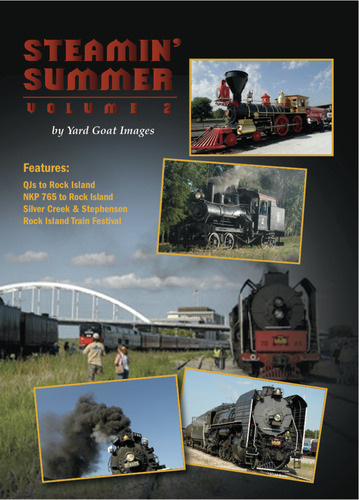 View Our Full Catalog
Price: 25 USD In stock
With 12 incredible days of steam action and some of the hottest days in the US Midwest since the 1930's, we could not think of a better name for our 3 Volume Steamin' Summer video project.
QJs to Rock Island - Iowa Interstate Railroad's two Chinese QJs traveled to the festival as a double-header, the first day with a passenger consist from Newton to Iowa City. The next day they brought a record-setting 55 car freight train to Rock Island. We get the first look at QJ 6988 after mostly cosmetic changes and a new whistle made it appear and sound more like a North American steam locomotive.
NKP 765 to Rock Island - we cover a portion of Nickel Plate 765's journey across Indiana on the Toledo, Peoria & Western Railway. The scorching heat actually caused the entire railroad to shut down for part of the day.
Silver Creek & Stephenson - the Freeport, Illinois operating railroad museum conveniently scheduled a Photographer's Special between the events at Little River Railroad and the Rock Island Train Festival. Great steam action provided by a 1912 Heisler, plus a Brookville "critter" and antique cars and trucks.
Rock Island Train Festival - Days 1 & 2 -
This one-time event brought together 7 steam locomotives, historic and modern diesels and more to a Mississippi River site in Rock Island, Illinois. The festival featured daily steam trips to Walcott, Iowa and all-day trips to other destinations pulled by steam and diesel. This chapter features Day 1 Walcott trips pulled by NKP 765 and QJ 6988 from onboard and trackside, and the all-day Bureau, Illinois excursion with 765 on Day 2. We also capture the excitement on the festival grounds both during the day and after hours, and a cab ride in 765.
Multiple HD cameras
Running time approximately 80 minutes Conveniently organized by chapters
Minimal narration - less talk, more steam action!
Steamin' Summer Volume 2 DVD - Yard Goat Images from Yard Goat Images on Vimeo.