We don't just feature the same handful of trains you find on other sites. We've gone out of our way to cover trains and train subjects that have been ignored for far too long. We even take you to festivals, special events and museums that celebrate America's long love affair with the historic steam train.
Browse our online catalog! Use the Sort by to find the DVDs you're looking for. You can also Search products in the search box to your right by entering a word or number (frisco, 261, etc.) Click on the DVD covers for full descriptions and video preview. Some items are available in money-saving Combo Sets. We accept all major credit cards. Payment by check can also be made.
Friend us on Facebook for exclusive sales and offers. Join our newsletter for the latest from the tracks.

The Great Gathering at Owosso
1403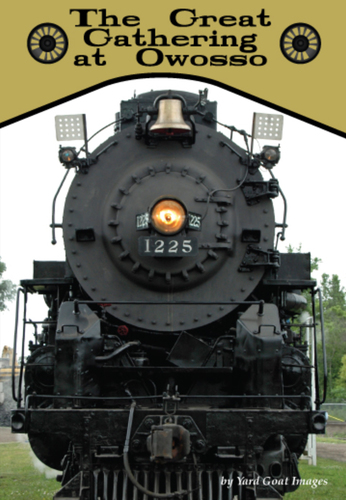 A Great Gathering of steam locomotives, vintage aircraft, and classic road vehicles took place in and around Owosso, Michigan in June, 2014. This huge event, called Train Expo 2014, was organized by the non-profit Steam Railroading Institute. SRI is located in Owosso on the site of the former Ann Arbor Railroad's steam shops and roundhouse. It's most prized possesion is 2-8-2 Pere Marquette 1225.
Our DVD program provides a front-row seat as we follow 1225 and the seven visiting steam locomotives (Nickel Plate 765, Flagg Coal Company 75, Lehigh Valley Coal Company 126, Little River 1, Little River 110, Viscose Company 6, and Leviathan 63) pulling dozens of trains. Our team of videographers captured the steam trips as well as loving closeups of the locomotives on display and while moving around the SRI site.
We also deliver some highlights of the road vehicles displayed at the Baker College Auto/Diesel Institute campus, and include extensive coverage at Owosso Community Airport, which featured a P-51 Mustang, a B-17, a B-25, a C-47, biplanes, the Misty Blues All Woman Skydiving Team, plus additional vintage and private aircraft.
Thanks to the Steam Railroading Institute for organizing these historic opportunities to see vintage trains, planes and automobiles. Add The Great Gathering at Owosso to your video library!
Approximately 98 minutes / Captured with multiple tripod-mounted HD cameras / Conveniently organized by chapters / Minimal narration - less talk, more action!
DVD Preview - The Great Gathering at Owosso from Yard Goat Images on Vimeo.
$25 In stock